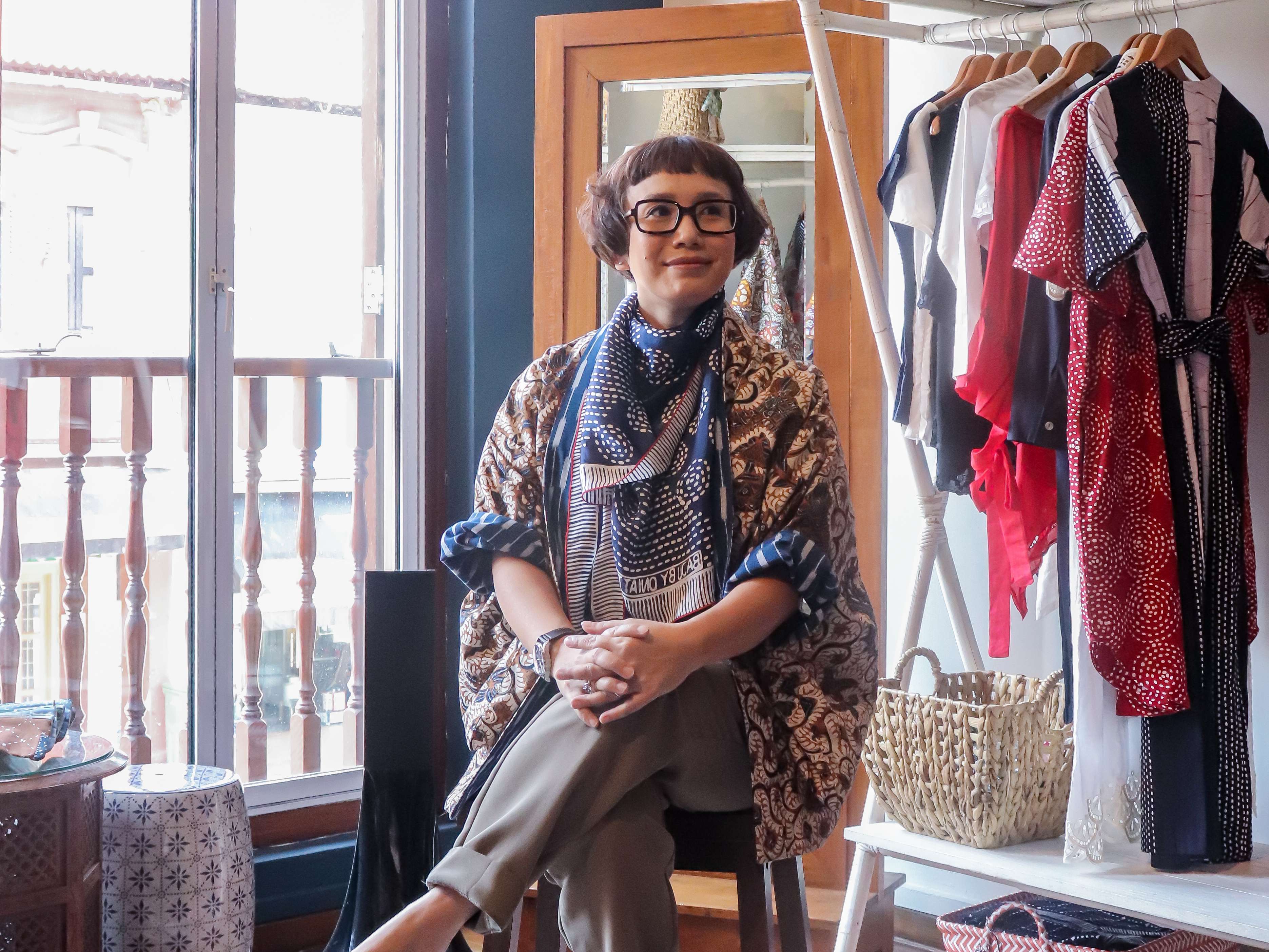 Creative Caricatures: In The Living Room
with Oniatta Effendi

We linger in the 5-foot way before following her up the narrow stairway to the second floor of the shophouse; the scent of sweet black tea and a woody warmth wafts down, filling the space with a sense of calm. It's a sensory overload upon stepping into Galeri Tokokita. There is much to admire, and yet each distinct visual sphere contributes back to a clear homogeneous narrative: the quiet, unassuming heritage of batik.

And it all started from one lady's obsession with the cloth.

The persona in question — Oniatta Effendi — founder of Baju by Oniatta (and Galeri Tokokita), tells me she has her own little secret stash of batik cloth that she can't bear to let go of; I wholeheartedly believe her as we perch ourselves on the sofa next to the window. She sips her tea, we laugh about her breakfast ideals, and she shares with me her stories; how a passion project turned into a whole venture of its own, how Galeri took root in the heart of Kampong Glam, and most intensely, how her love for batik will never wane.
---
The living room conversation, below.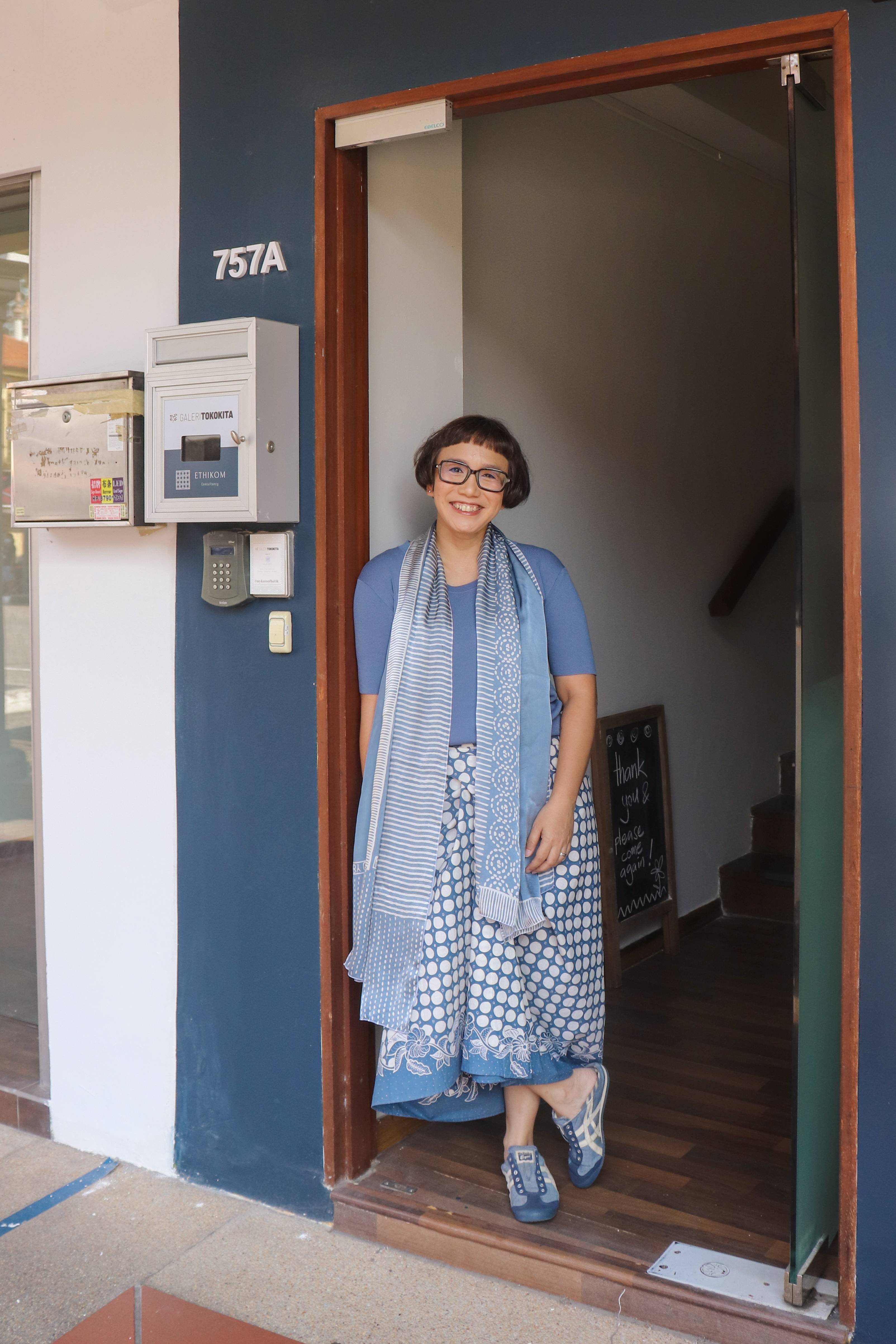 Oniatta Effendi wears the WESLER Top and the BAJU BY ONIATTA Silk Batik Long Shawl.
Tell us a little bit about yourself in three words (or phrases).
Mother. Educator. A batik advocate.

When did your interest in batik craft first begin?
It started with an obsession — for batik. It wasn't that long ago, probably in my thirties, where I started appreciating batik for the process, for the journey a piece of cloth takes, before it becomes something as beautiful as what you wear on you.
I travelled to Indonesia quite often — my sister used to live there — so we used to head up often for holidays and I always found myself getting reconnected with the space, with the cloth, with vanity, and obsession.
But I had already been obsessed with it as a wearer; I saw it everywhere growing up. My mother and grandmother always had so much batik on them...I wouldn't be surprised if those visual images simply stayed in my head?
Oh, and my father had this really gorgeous batik shirt: he looked so cool in it...you know? With his convertible car and everything. (laughs, sips tea)

So how did Baju by Oniatta first come into fruition?
The batik cloth is too precious — so much so that sometimes I didn't want to cut it too much. So I had a friend who did sewing and I asked her if she could experiment with certain things, but it was just for me to wear it as personal pieces, at least at the start.
And then friends started to notice, and asked me to sell it. I didn't really want to at first, But after a while I decided why not? But there was no way I could do batik tulis (hand-drawn) pieces at the start; I simply didn't have the capital for it.
So instead we had 12 pieces of batik cap (copper-stamped) because that was what I could afford. I sent the first design off: the Utama Pants. Everything got sold in seven days...and it took off from there.
Which Baju by Oniatta piece would you term as the most iconic or defining for your label? Share with us a little more.
The Merdeka Jackets. Some people view it like a Japanese kimono, others give it other sorts of vocabulary... I like that fluidity, plus the fact that we're able to use as much of a batik tulis cloth as possible.
I launched it in August, since it's a very important month between all three countries of our region (Singapore, Indonesia and Malaysia all share a birthday in the month of August) so there was this sense of 'kemerdekaan' — that means 'liberty' and 'freedom'. No two Merdekas are the same; and I think each individual piece speaks to a different wearer.

How did you first come across the craftworkers/artisans whomst you source your batik from? What is your working relationship with them like?
At the start it wasn't directly through a craftsman of course. But as I got closer to the cloth, there was also an innate desire to get closer to a batik town, like Solo in Java.
Solo has a different vibe altogether, and I love it so much. I remember doing a silly thing; just asking my driver to drop me off and I'd encounter an entire village where the people are the makers, the outside streets are where they sell the pieces, there's others selling dyes and supplies, and they're walking from house to house wearing the batik: it's an entire ecosystem on its own. So rather than just a business, it really became about my love for craftsmanship, my love for people..and just the relationships that I build over time.
We have a group in Solo that are specially commissioned to do pieces with the Baju by Oniatta name on the cloth, two other groups of makers in Cirebon for their intricate hand drawn pieces using a canting pen, and an innovative chap from Jogja, Bantul that does the hand, copper-stamped pieces. That's how the scarves with IN GOOD COMPANY came to be.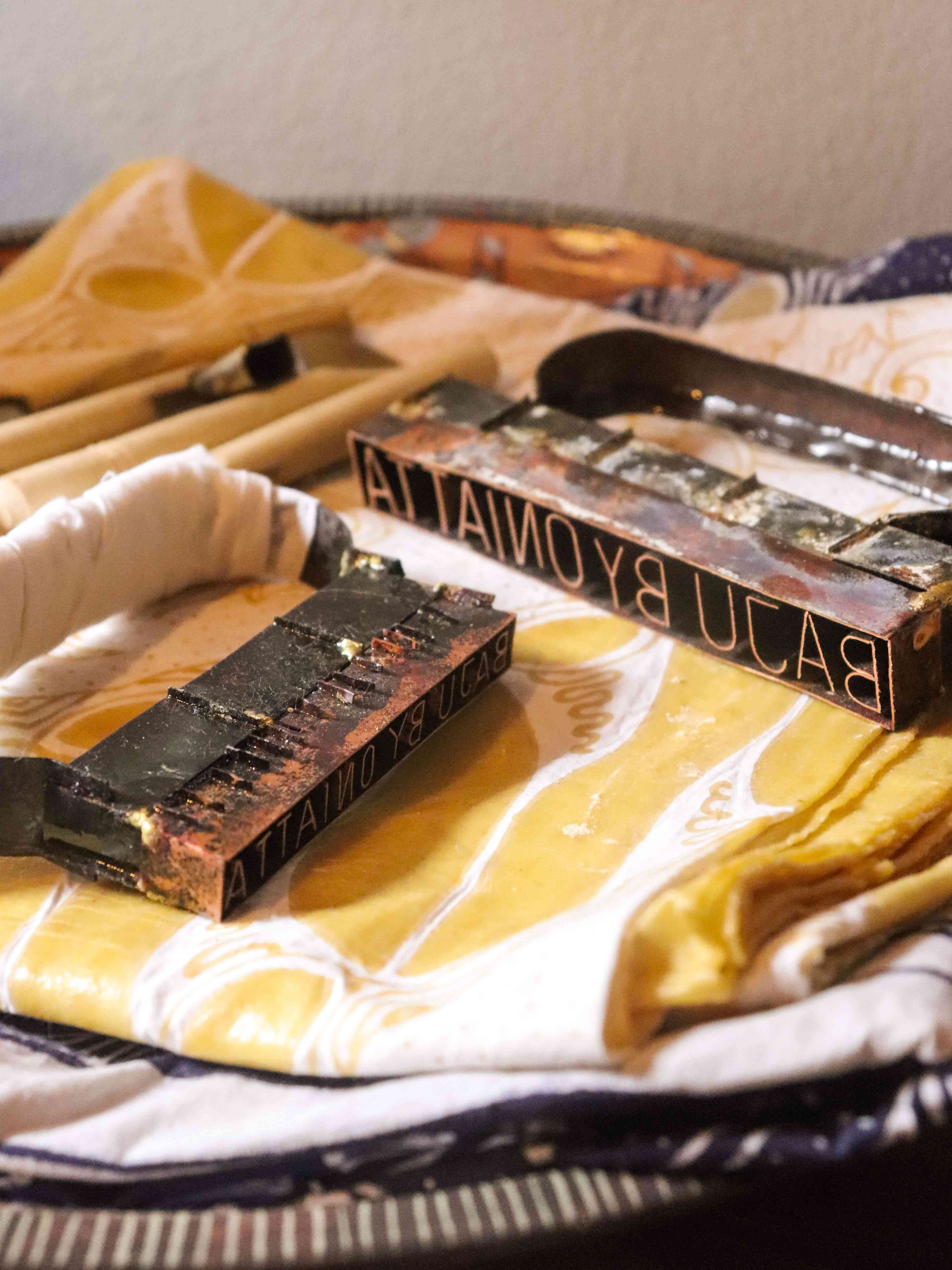 Exclusive BAJU BY ONIATTA copper stamps.
Is your personal style very similar to Baju by Oniatta? How is it similar or different? Tell us more about your personal sense of style.
Yes (laughs assuredly). They pretty much overlap! Batik is something I wear almost everyday; there are days I just want to wear a white t-shirt and shorts or jeans...but even then I feel very naked without a piece of batik, so I'll throw on a batik shawl, scarf or my batik shoes. Even that little subtle detail will do...but absolutely, it's almost an extension of my personality at this point, and what I want to showcase to the other batik wearers and enthusiasts as well.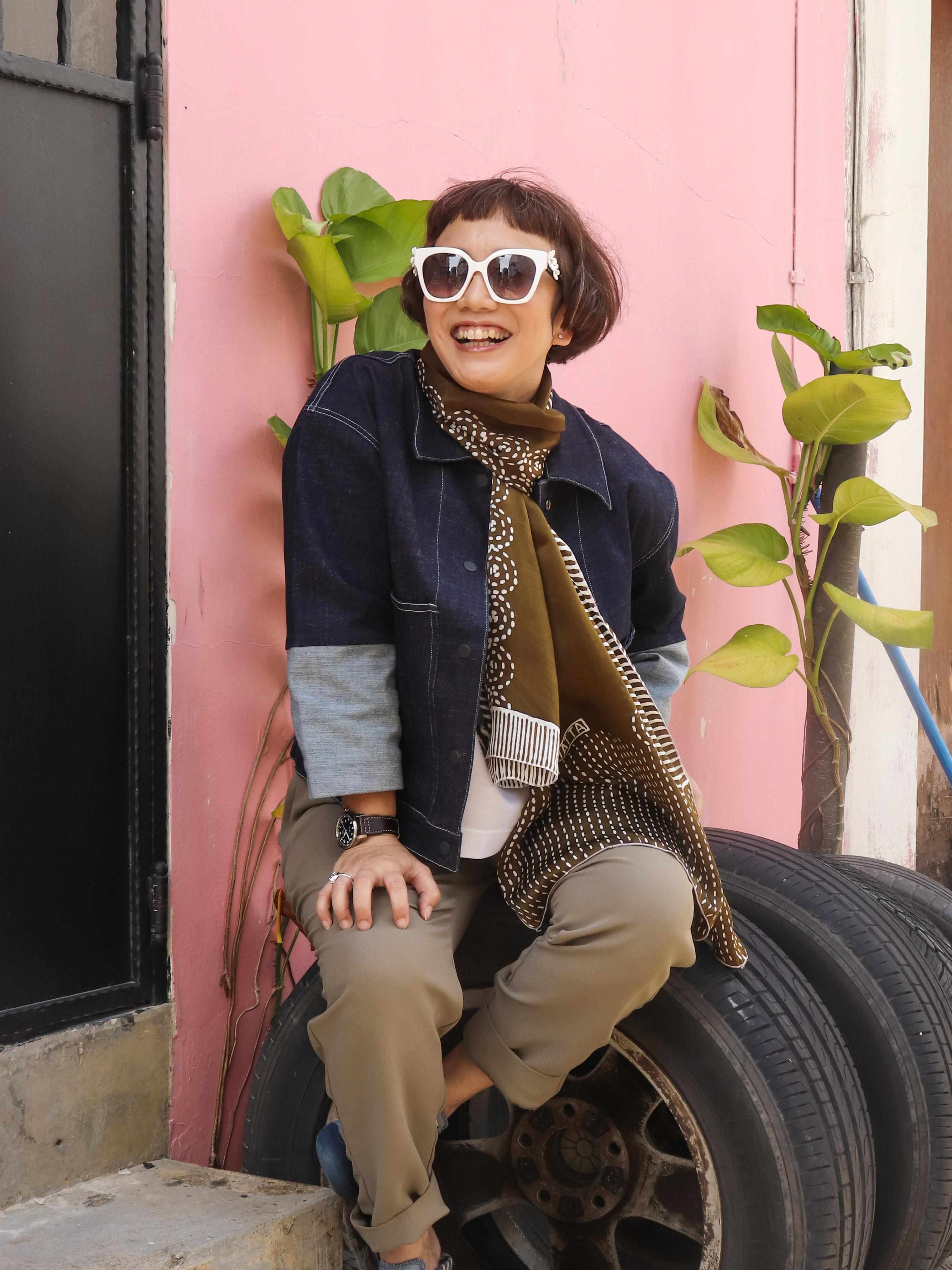 Oniatta wears our GOYA Jacket, the DEAN Pants and the Silk Batik Long Shawl.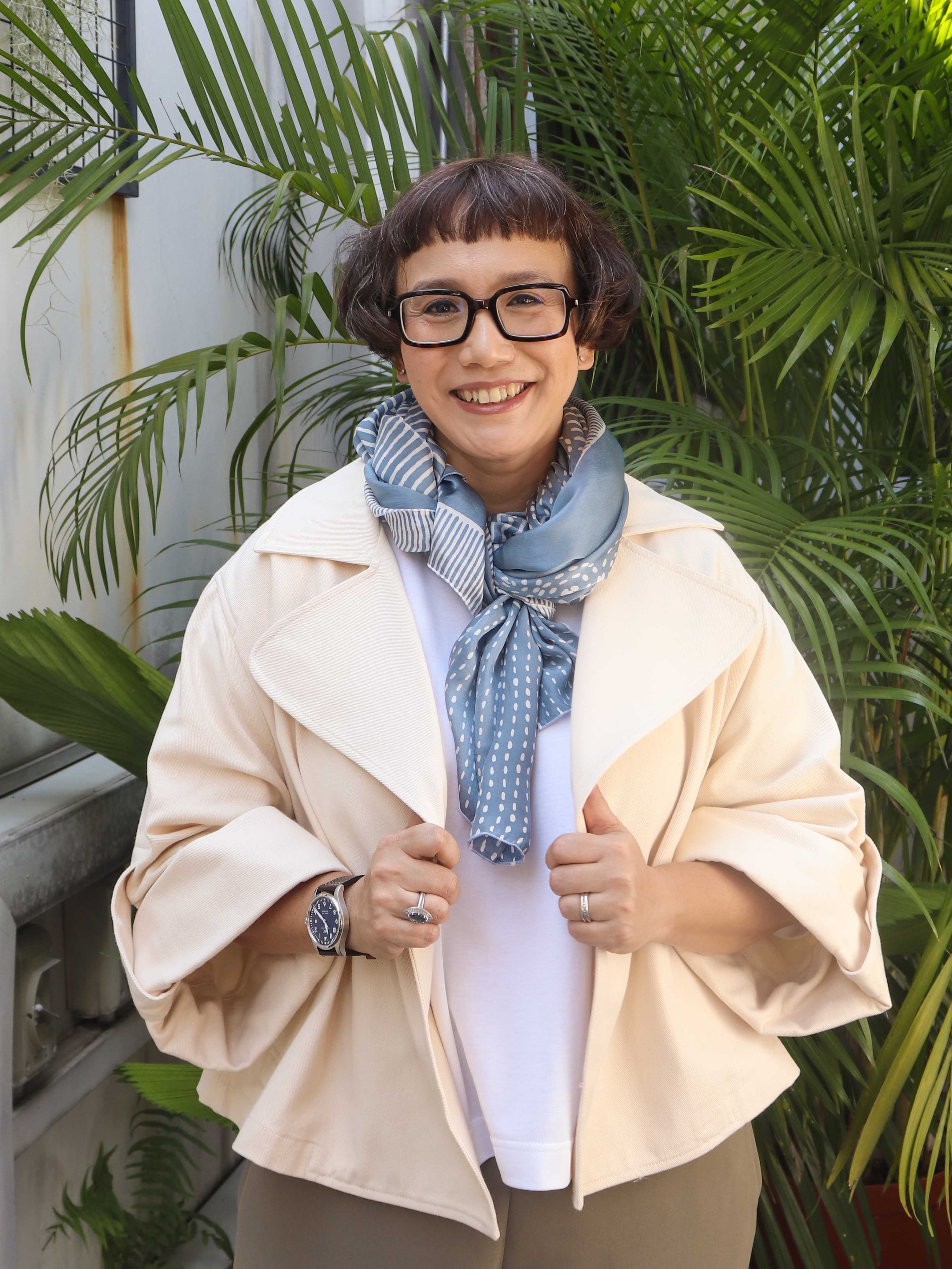 Oniatta wears our NIKOLAS Jacket, the ABBA Top and pairs it all with the Silk Batik Long Shawl.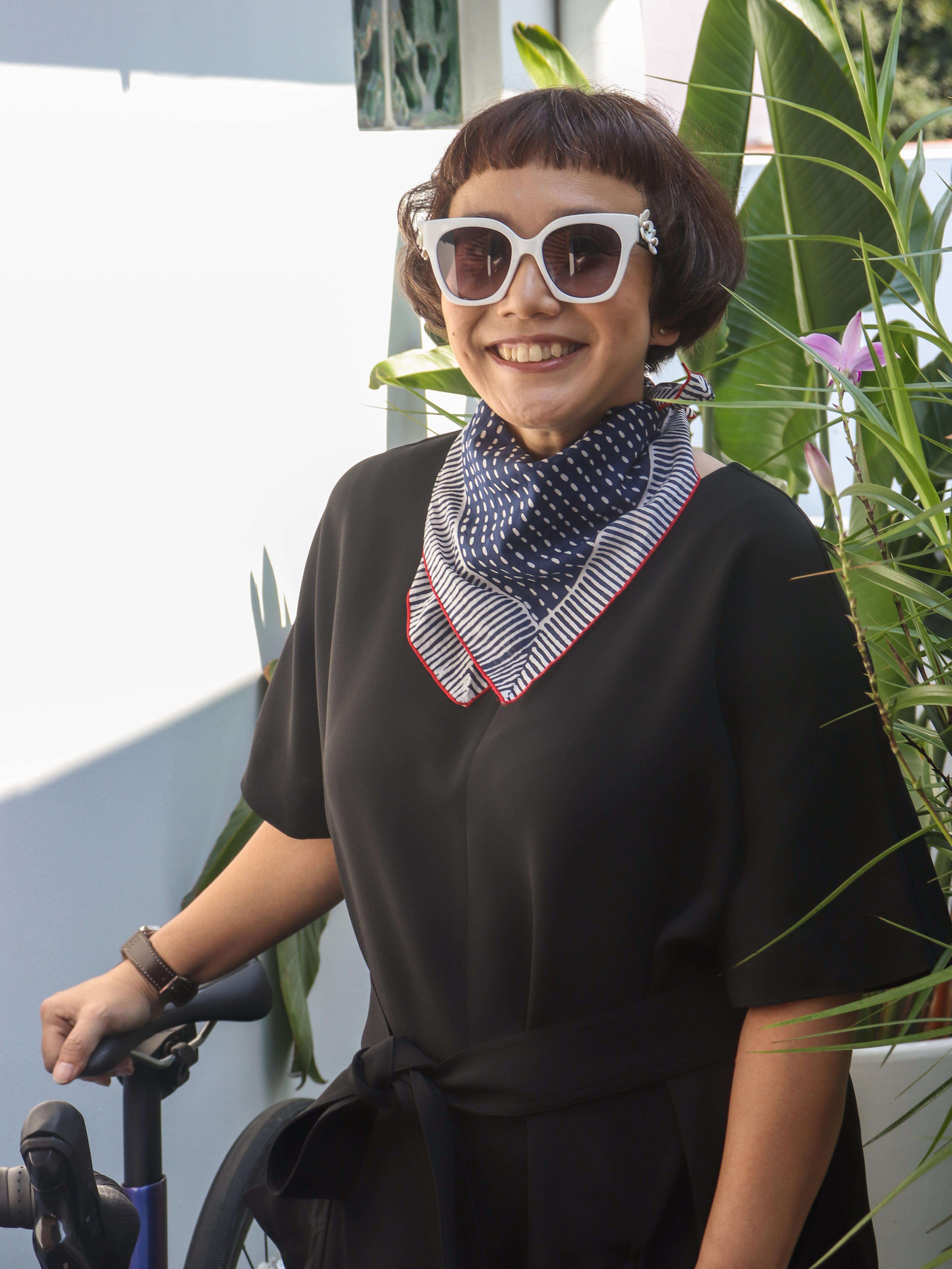 Oniatta wears the SHARON Jumpsuit with the Voile Batik Handkerchief Scarf.
So rather than just a business,
it really became
about my love for craftsmanship,
my love for people...
and just the relationships
that I build over time.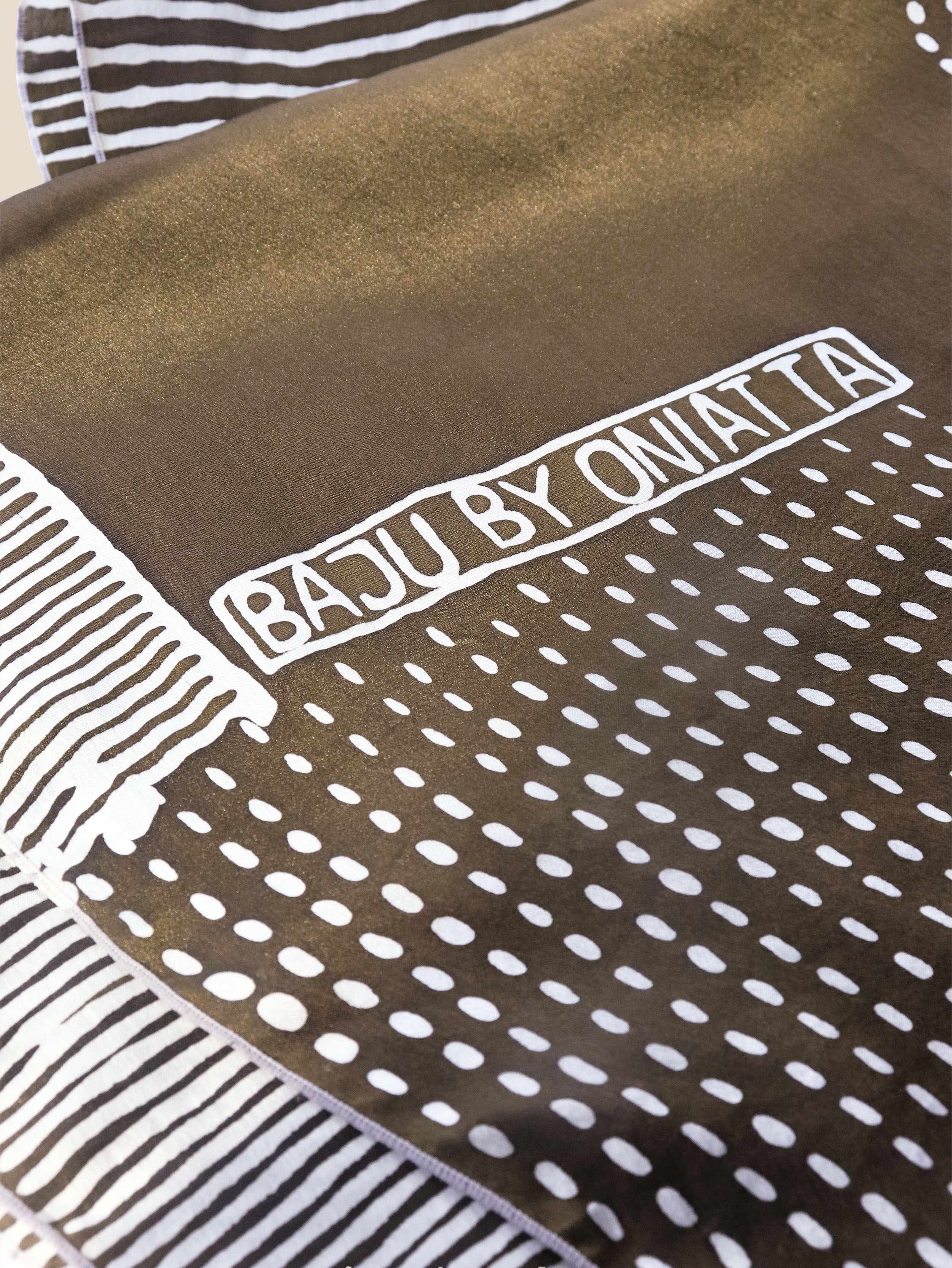 The Silk Batik Long Shawl in Olive.
Share with us your creative inspirations?
With the first Batik Tulis collection — Bunda or Mothers — it was really about honouring mom, mom-in-law and late grandma, because these were the people who were really always wearing batik. It was an ode to our mothers.
The following year I was investigating my relationship with brown batiks; because I don't like brown batiks. I always associated it as the 'death cloth'. When you go to a funeral, the batik that covers the body is a brown cloth. But it was for a practical reason: if the body is bleeding or injured, brown will cover it all. So I wanted to go back to this brown and make it beautiful — and overcome this. I called this collection Nostalgia.
There were always these connections I was drawing with people, with spaces, and the cloth...so I put these narratives together.

What does Kampong Glam signify for you?
As a child my mother used to bring me here to buy cloth. So whilst following her, I had recollections of a space that was flourishing with textiles and fabrics.
Positioning ourselves here was a little intimidating at first; but I think what Galeri has to offer really complements the DNA of the heritage and culture that Kampong Glam has carried for a very long time.

Favourite shops around the Kampong Glam district?
Warung Paryaman. Ratu Lemper. Mother Dough. Fabulous Baker Boy. Victory Murtabak. (They're all food shops!)
What's the key difference between Baju by Oniatta and Galeri Tokokita?
The clothing line is Baju By Oniatta — it started with no space, it was just a clothing line. When it first started it was just a side project; only in 2019 did I decide to take it full time and give it a space.
This is a clothing line, but I have a cupboard of cloth that people want to buy directly as uncut pieces. And those are not Baju by Oniatta pieces; they're precious cloth that directly came from the artisans themselves. The offerings were far more than that, and hence, Galeri Tokokita.
But that alone didn't deepen the meaning about what this space is about; we wanted people to come by and be able to deepen their appreciation for batik. So it had to be a space that people could admire visual beauties; cloth, art, and even just the setup of the space. Like a gallery (or Galeri).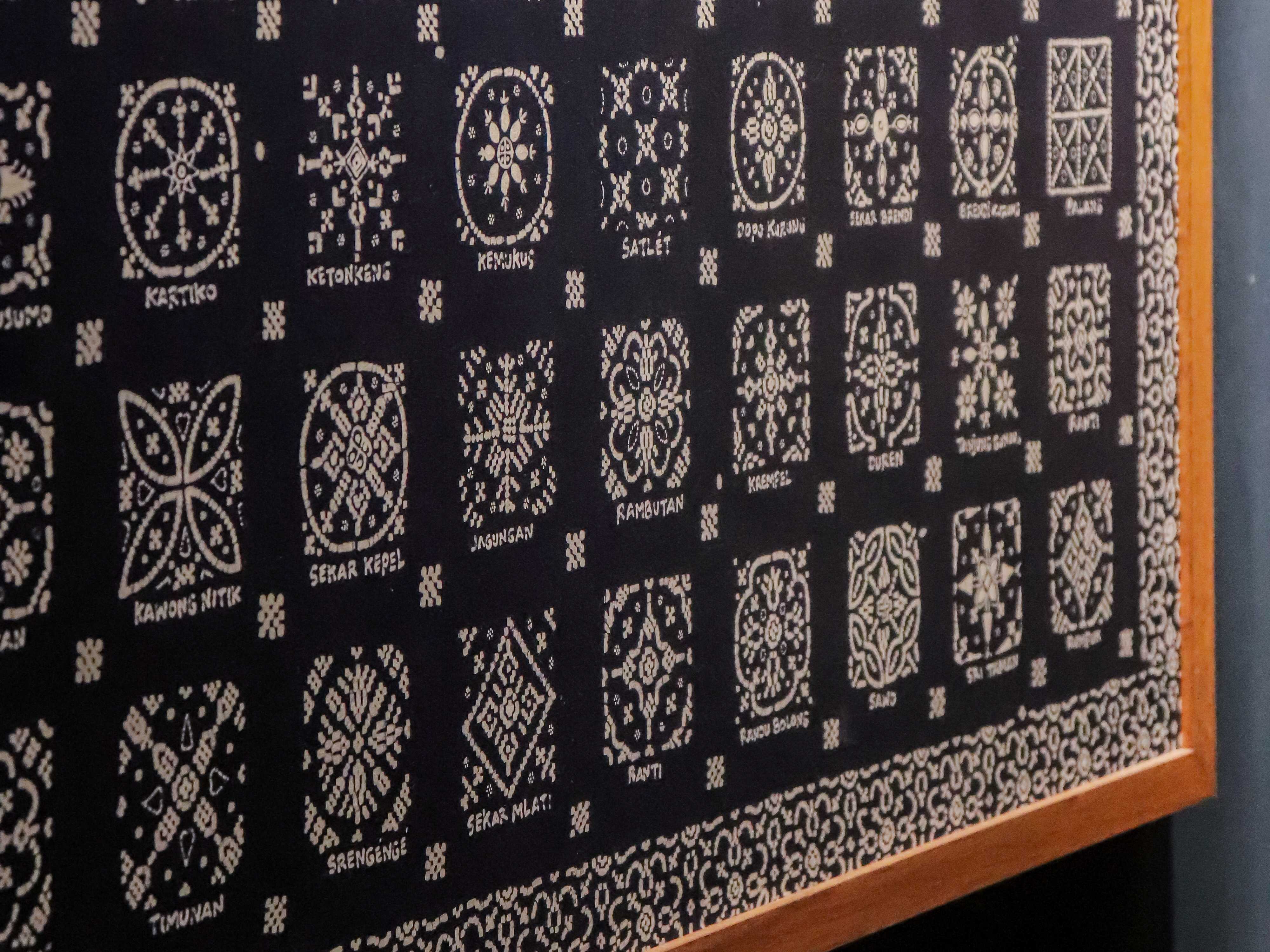 Batik motifs — assigned names for easy reference when working on consignment pieces.
Tokokita: 'toko' is a shop,
'kita' is us.
It's 'our store';
acknowledging the makers,
the craftsmen,
and the batik-wearers themselves.
How has the current pandemic affected your way of life and the way you approach your collections?
The pandemic has inevitably slowed us down. There is still work being done there; it's reduced but it's still frequent.
I think the main way our relationships have been affected is that I'm not able to go there physically — which I used to do every few months. It's really that personal touch, to put a face to the makers and to the pieces. We also can't expect them to work according to the hectic schedules we're used to; there are incapacities that they experience, which we simply cannot understand. So I have to be able to listen hard enough, and understand that there are difficulties on the other end that I'll have to then work around.
If anything I'd like to think that it's helped me become a better person, though I do hope the pandemic clears so that we can continue to give back to the ecosystem of batik makers.
What do you hope your modern reinterpretations of batik will do for the current audiences who follow your stories?
That the wearer is an informed consumer. That the wearer is one that understands batik in it's true form: as a piece of art. That the wearer is able to deepen their appreciation towards batik, and acknowledge that there is an actual ecosystem of craftsmen, artisans, and makers behind it.

Could you share a piece of advice on how to stay creatively focused and inspired in such turbulent/confusing times?
I think you've got to find and celebrate joys however small they are. Given the situation right now, there is this level of hypersensitivity that we can't describe. We can all be pretty hard on ourselves; but it's a good time to take a step back and be present with yourself. Take time to breathe! Use this space to create, to write, and really spend time with myself.
It's a good time to be introspective — as you see how the world takes on another shape tomorrow.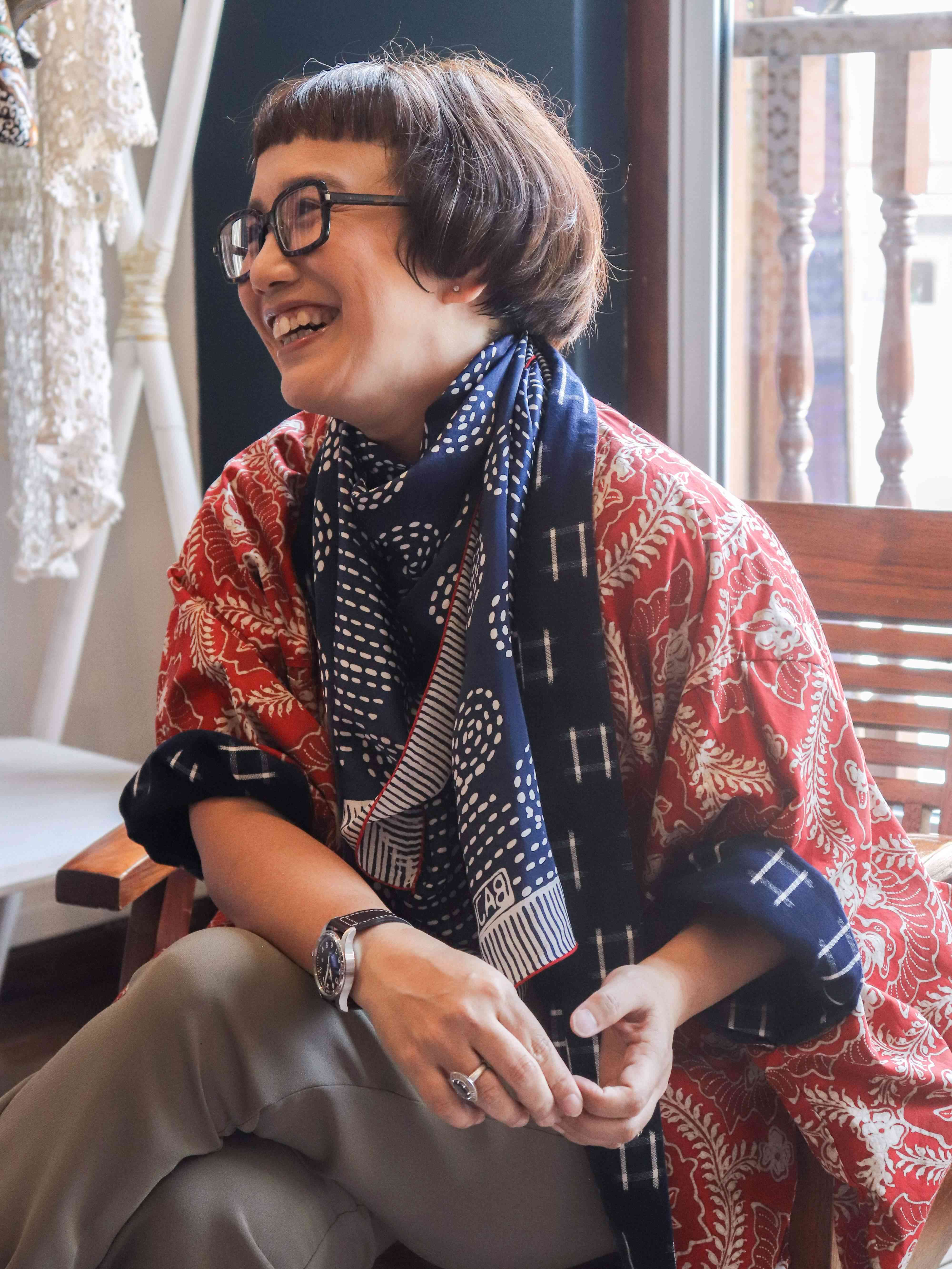 Oniatta wears the BAJU BY ONIATTA Silk Batik Shawl.
THE SWEET SPOT

Favourite colour combination?
Blue, red, white.

An understated spot in town?
Springleaf in the East.

The most essential item in my closet is…
A white shirt.

A treasured read?
All my batik books.

Best way to wind down for the night?
A cup of tea, your favourite music...and a good book.