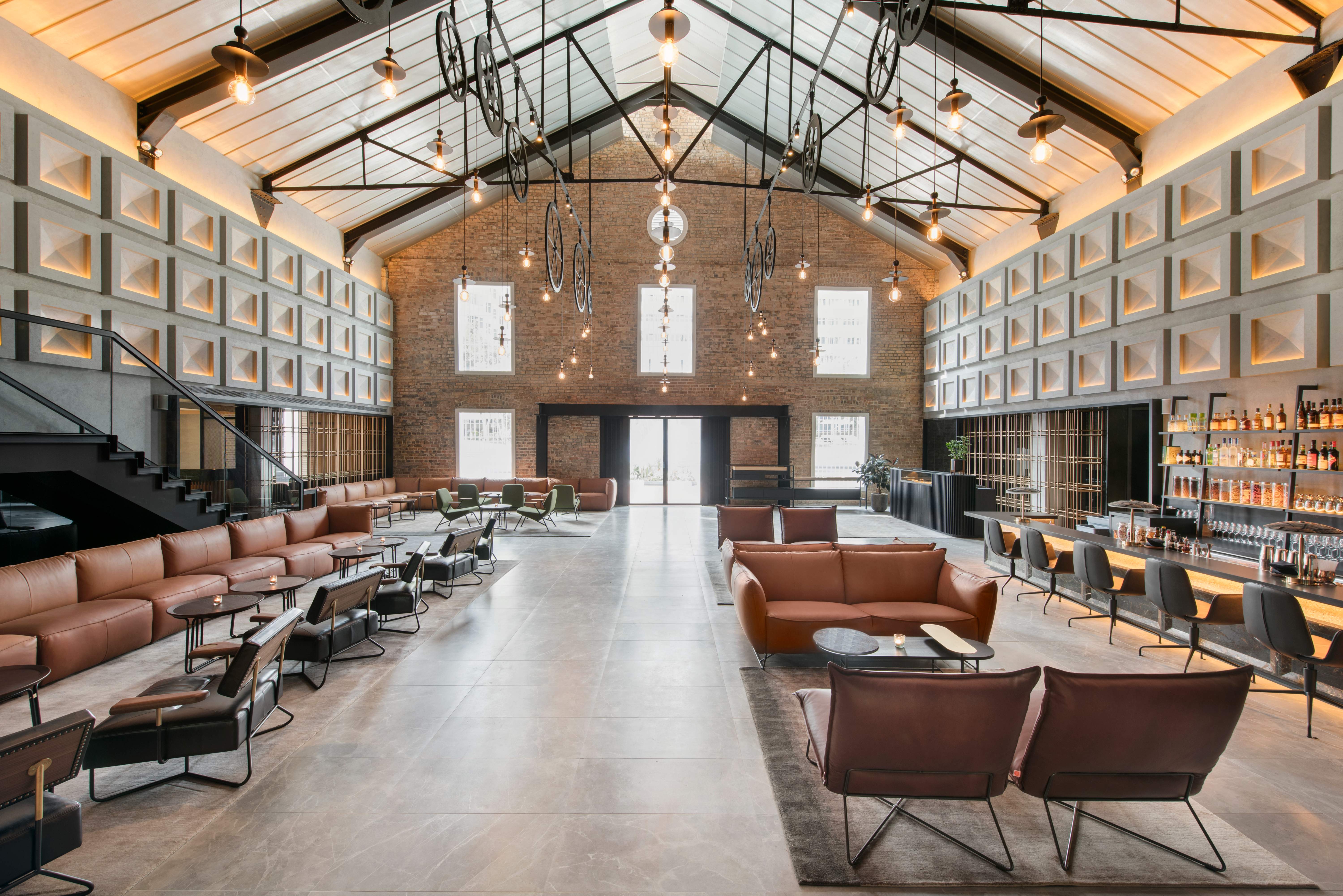 Unveiling Spaces: The Warehouse Hotel
Beyond The Heritage Icon of Modern Luxury
27 August 2021


We hear the clinking of glass against metal. Soft voices hang in the air. Yet the seductive knowledge of private affairs remains tucked away — in the secluded corridors of one godown turned riverside solace: The Warehouse Hotel.

Time mysteriously slips away once you are within — like the memory fog of witnesses to a crime.

But as if to clad itself in a liminal space forever: an old time charm usually reserved for the shadows makes its way into the contemporary pleasures of a hospitable frontier. It is in this boutique hotel: that memorialized heritage belongs with the strength of modernity, and unyieldingly so.

As comrades in the fields of design, and collective collaborators for their most recent room furnishing — The Warehouse Robe — we were much enamoured with the hotel's understated design that upon a second inspection, seems to take centre stage in the luxurious reimagination of the old warehouse.

So we dealt in our fair share of debauchery; seeking answers to the dark glamour of it all.
---
The interrogation of Tarun Kalra, timekeeper and General Manager of The Warehouse Hotel, below.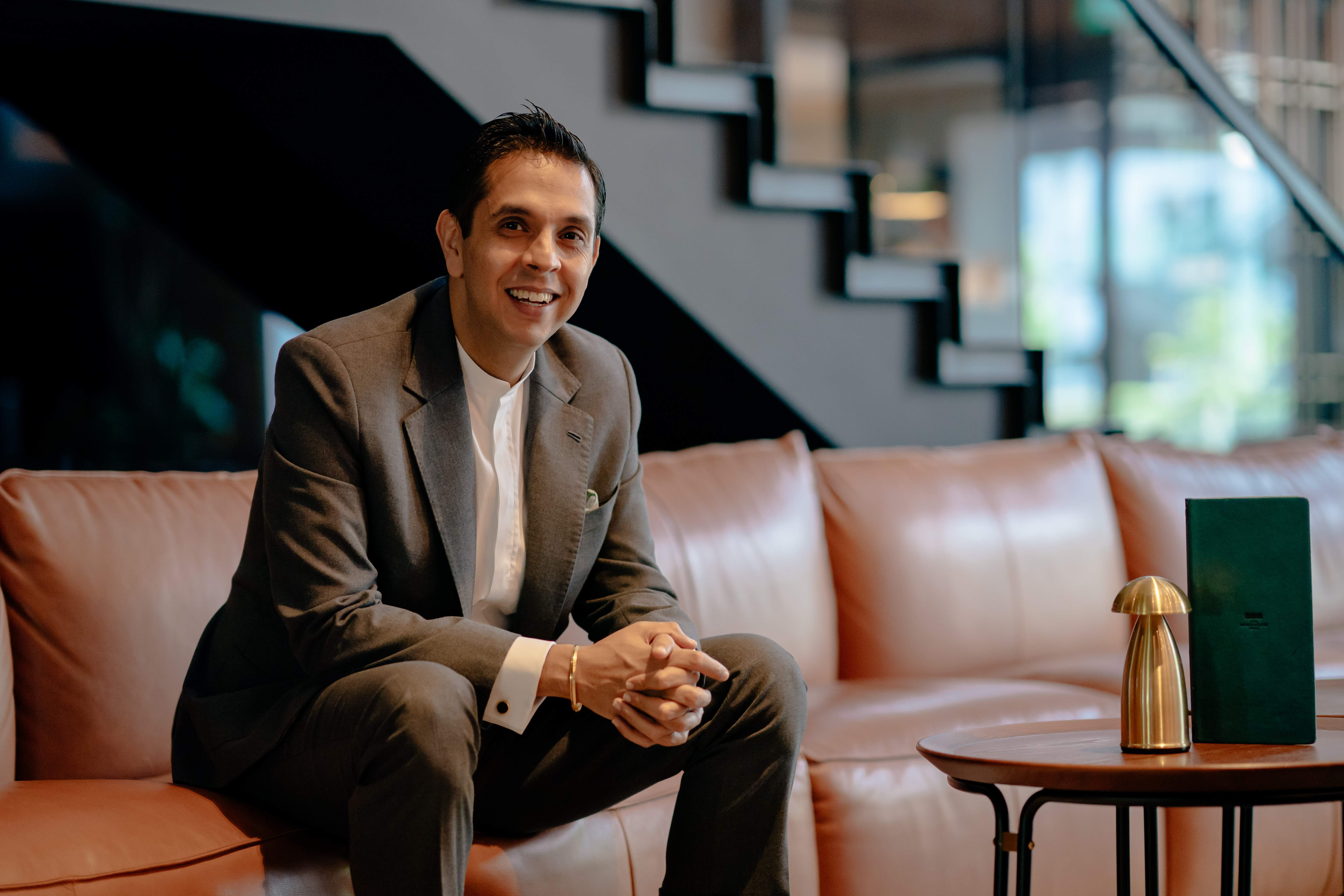 The Warehouse Hotel's General Manager, Tarun Kalra.
The Warehouse Hotel seems to mark itself in its clandestine glory days. How have you converted this enigmatic charm into the indulgence of the hotel experience?
Renovated from an iconic 1895 warehouse – known in Asia as a 'godown ' – the building is situated along an infamous trade route that connected Asia and the Straits of Malacca. In the early 20th century, the premises were recognised as a hotbed of activity for secret societies, business deals and underground spirit distilling.

Today, whilst much of that history has disappeared, The Warehouse Hotel has been meticulously restored as a modern 37-room independent hotel. We worked with homegrown agency, Asylum, to bring this to life, developing a stylish and enigmatic space to marry a bygone era with modern-day Singapore, providing an industrial yet welcoming feel.

Exposed brick walls line both sides of the entrance as an appreciation of the building's heritage. Custom lights are inspired by the pulleys found in godowns and line the double-volume ceilings, defining the ambience of the lobby lounge, while the elevator, intentionally clad with metal grilles, harks back to Singapore's developing days.

The entire culinary portfolio – including our restaurant Po and in-room dining – is a loving revival of the flavours of yesteryear and refined interpretations of local favourites, while the Lobby Bar's signature cocktails pay homage to the three distinct eras of the hotel's past. In each room, a pleasant surprise of 'Minibars of Vices' awaits, specially curated around three categories of 'Gluttony' including handcrafted salted egg yolk potato chips and Vietnamese dark chocolate, 'Lust' for naughty treats, and 'Vanity' for local beauty elixirs.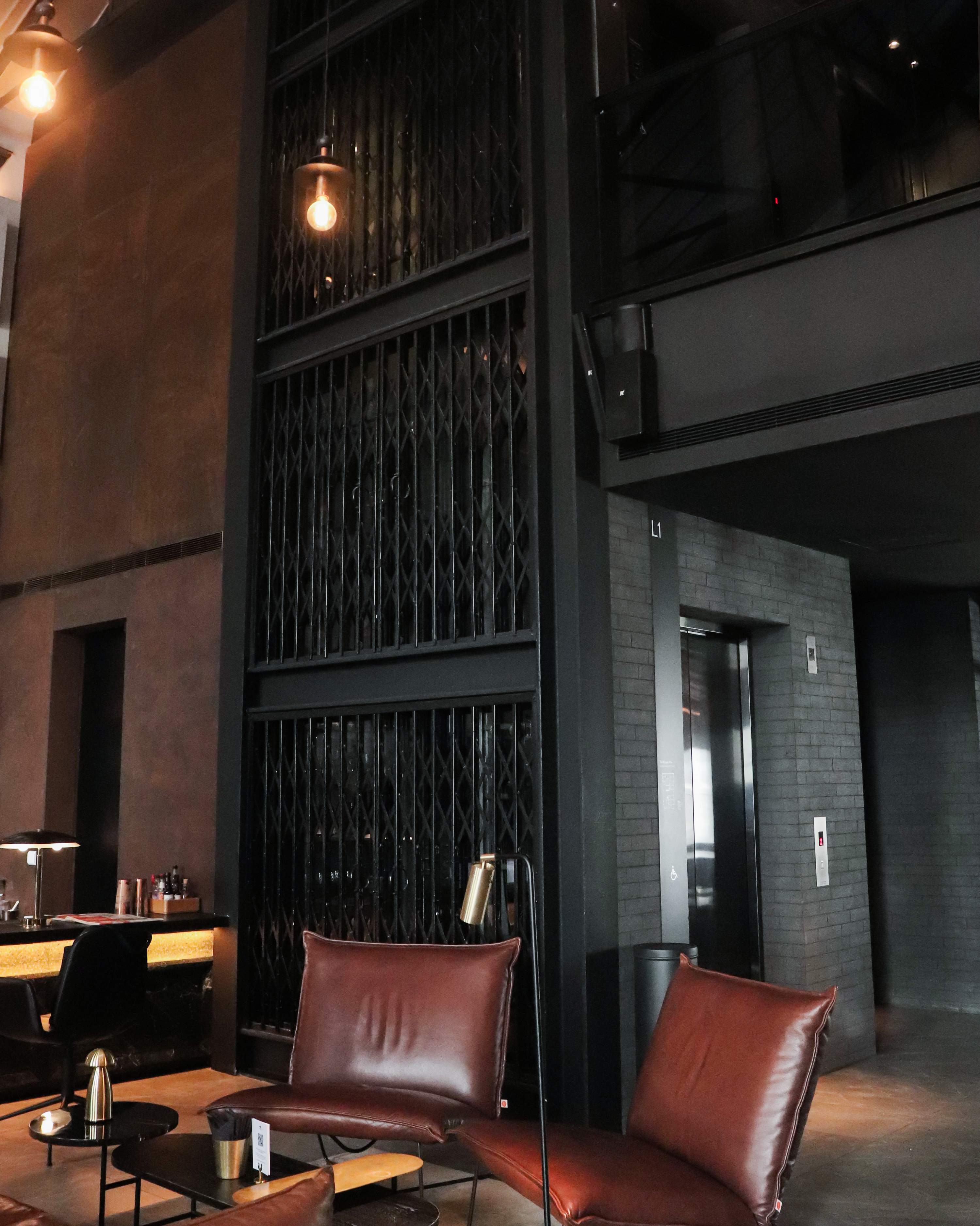 The Lobby Bar: Industrial-inspired, with mechanical furnishings.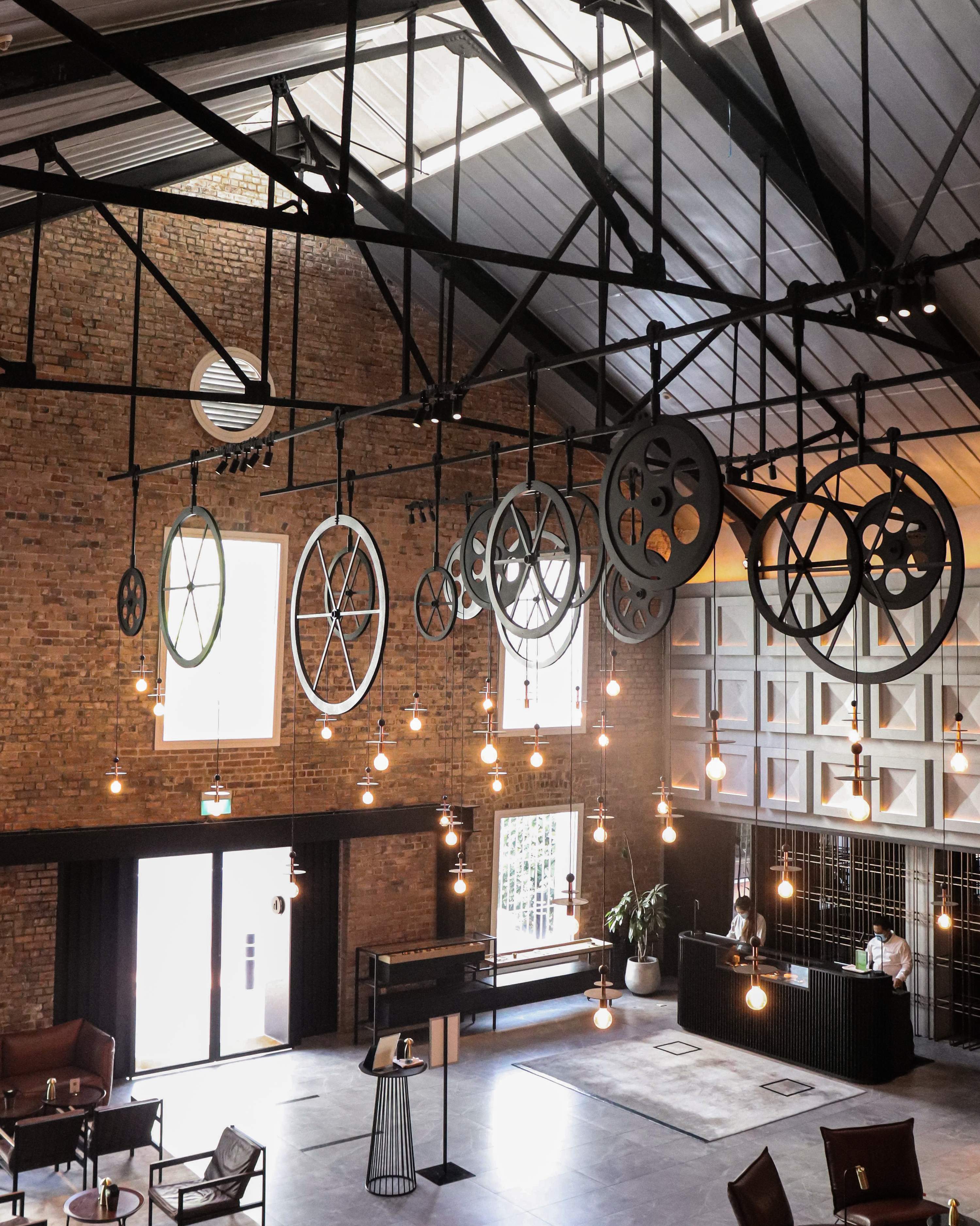 Exposed iron-wrought beams in the space — maintaining the original structure of the godown.
Custom lights are inspired by
the pulleys found in godowns
and line the double-volume ceilings,
defining the ambience of the lobby lounge,
while the elevator,
intentionally clad with metal grilles,
harks back to Singapore's developing days.


What do you consider to be crucial to the interior design of a hotel room?
Marrying design with comfort and functionality to the rooms is a crucial part that is sometimes overlooked. Informed by the building's existing layout, each room has a different configuration. No two rooms are the same: many with double-height ceilings and original iron-wrought beams intentionally exposed.

Exuding a sense of modern luxe, we apply copper, green forest marble and wood throughout the rooms alongside wire mesh glass outlined by black metal frames in the bathroom which have rain showers or bathtubs, and 100% eco certified Ashley & Co bath amenities. Custom single-unit copper wall pieces unify the rooms, integrating everything from desk to wardrobe with uncluttered lines and optimal storage in mind.

Industrial chic is echoed in the sleek modern furnishings — Polygon armchairs from Prostoria, Flos floor lamps, Bang & Olufsen bluetooth speakers — bathed in warm ambient lighting for a welcoming atmosphere.

It is of course made complete with various in-room touchpoints from locally curated products in our 'Minibar of Vices', to our custom Mud Rock ceramic mugs to enjoy artisanal tea and coffee, and locally-designed bedspreads proudly showcasing the hotel's silhouette in ikat patterned textile from Matter Prints.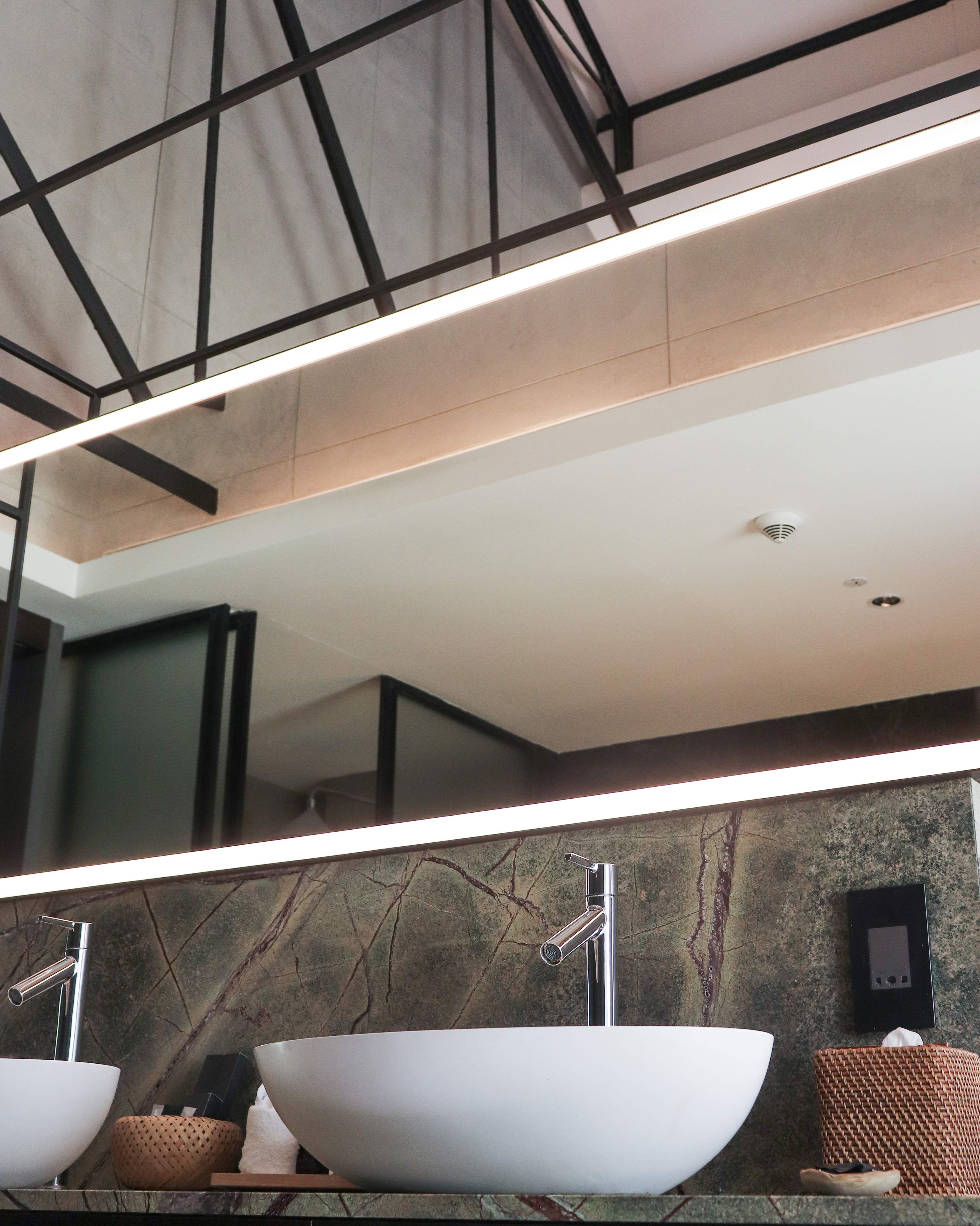 We notice you're very intentional with what goes into your hotel room space. What goes into this curation process of inputting various elements into your rooms?
The Warehouse Hotel endeavours to tell the story of Singapore's new makers, creators and do-ers, brought to life through its thoughtful collaborations. Beyond the property alone, we recognise that the service we provide can serve as a platform to share these local experiences revolving around heritage and culture. These are the people and products we admire greatly, that we wish for the rest of the world to see.

Inviting a deeper foray into what Singapore is made of that no guidebook will tell you about, our rooms have been fitted with luxurious essentials created and curated by industry experts, from commissioned Mud Rock ceramic mugs, to building-inspired throws from Matter Prints, to complete your stay with authentic experiences that cannot be replicated elsewhere.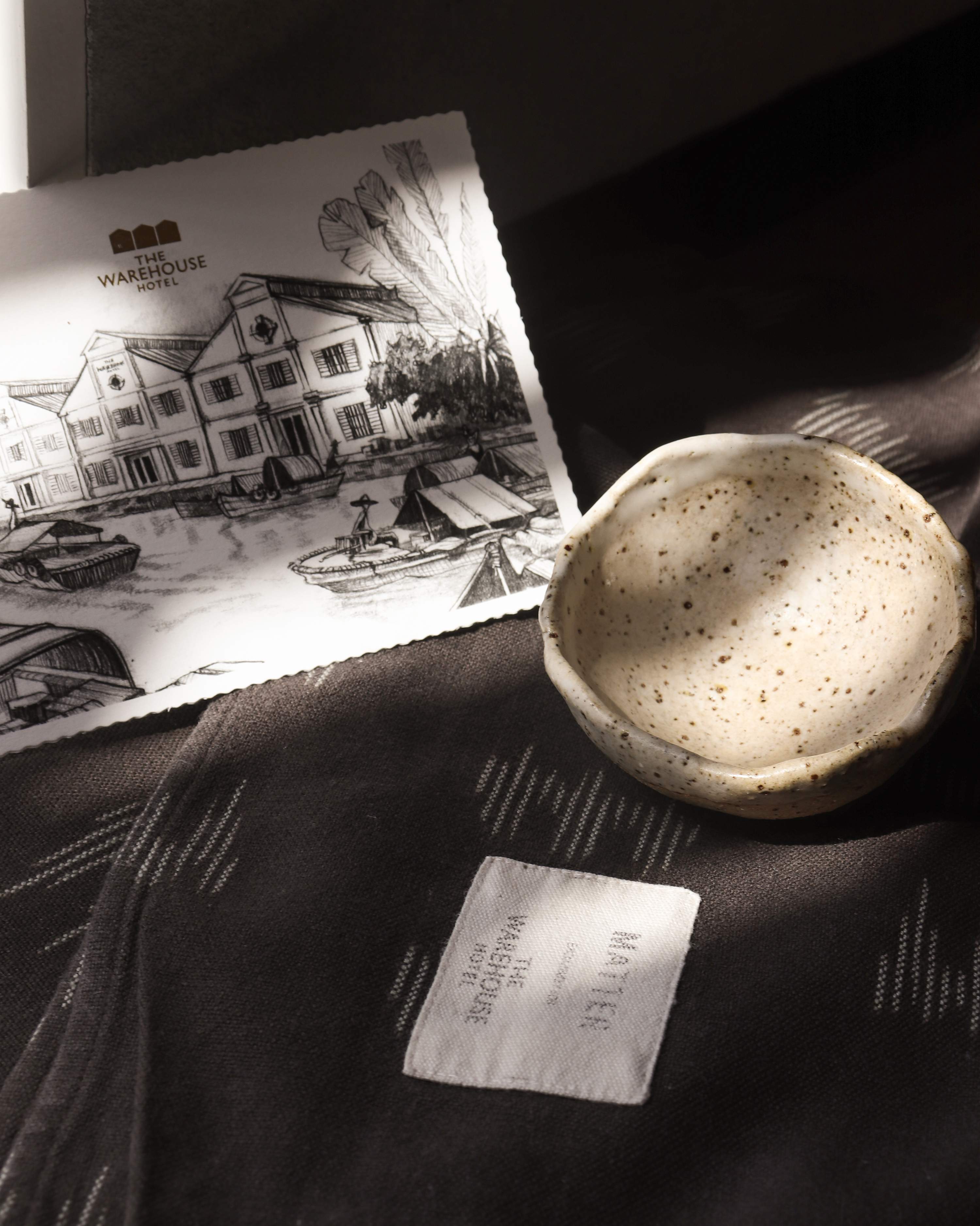 Curated room furnishings.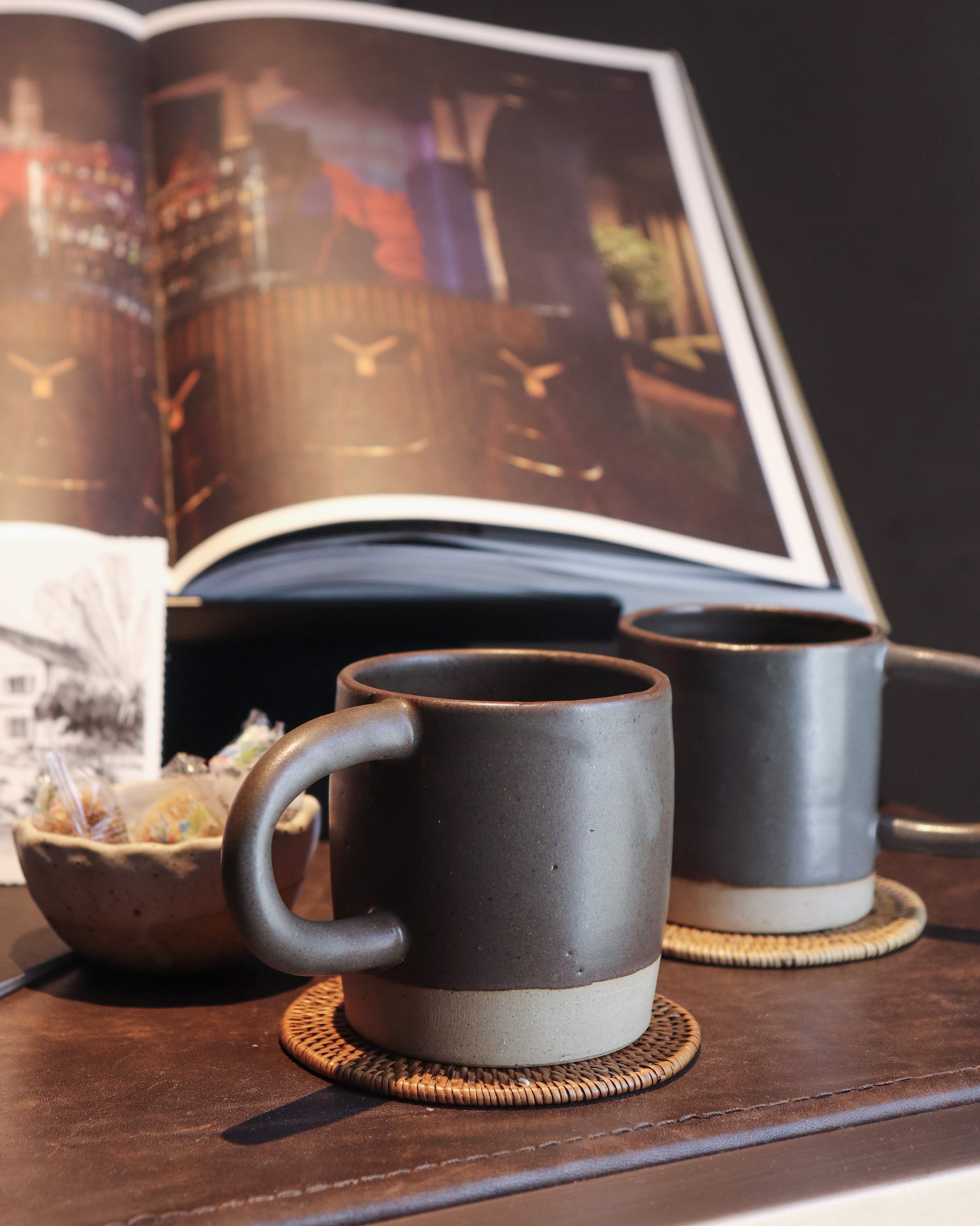 Custom Mud Rock ceramic mugs.
Tell us more about The Warehouse Robe.
Our latest collaboration with local clothing label IN GOOD COMPANY, brings timeless style and effortless silhouettes to The Warehouse Hotel with custom robes combining thoughtful design with technical finesse. In imagining The Warehouse Robe, we wanted it to be reflective of our story while breaking away from conventional hotel robe design; it was crucial for it to be visually well-designed, comfortable to wear over long hours and versatile enough for taking to the rooftop pool, relaxing in after a bath or lounging in style.

IN GOOD COMPANY immediately got the brief. Over six months of collaboration, we imagined an Asian-inspired design for modern-day luxury adopting a concrete colour taking cue from our grey walls and rooms' muted tones. Made in a lightweight and breathable seersucker fabric that lends structural form — informed by our site's architecture — it's ideal for keeping you cool and comfortable throughout your stay.The Warehouse Robe can even be brought home should one like (available for purchase at our front desk).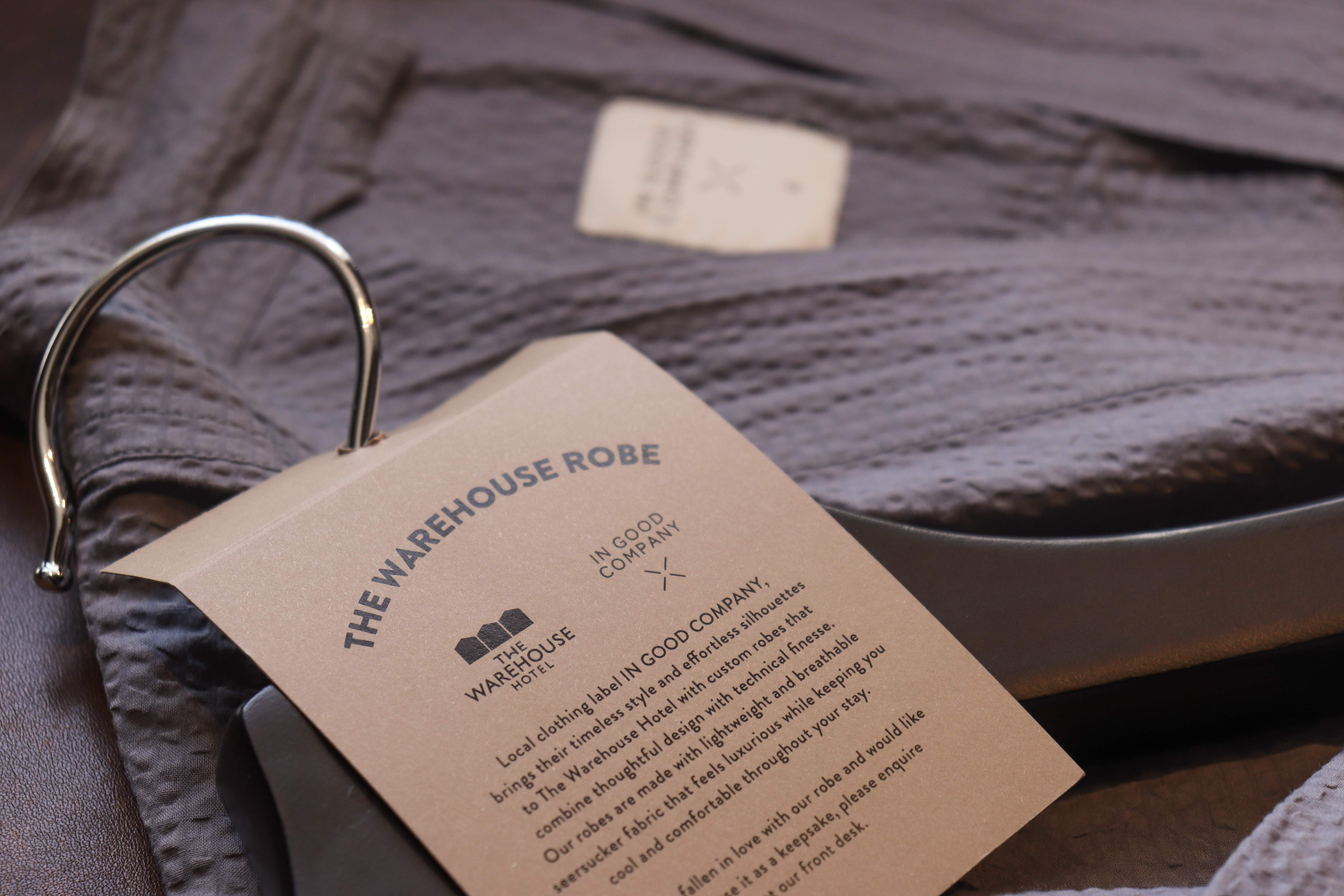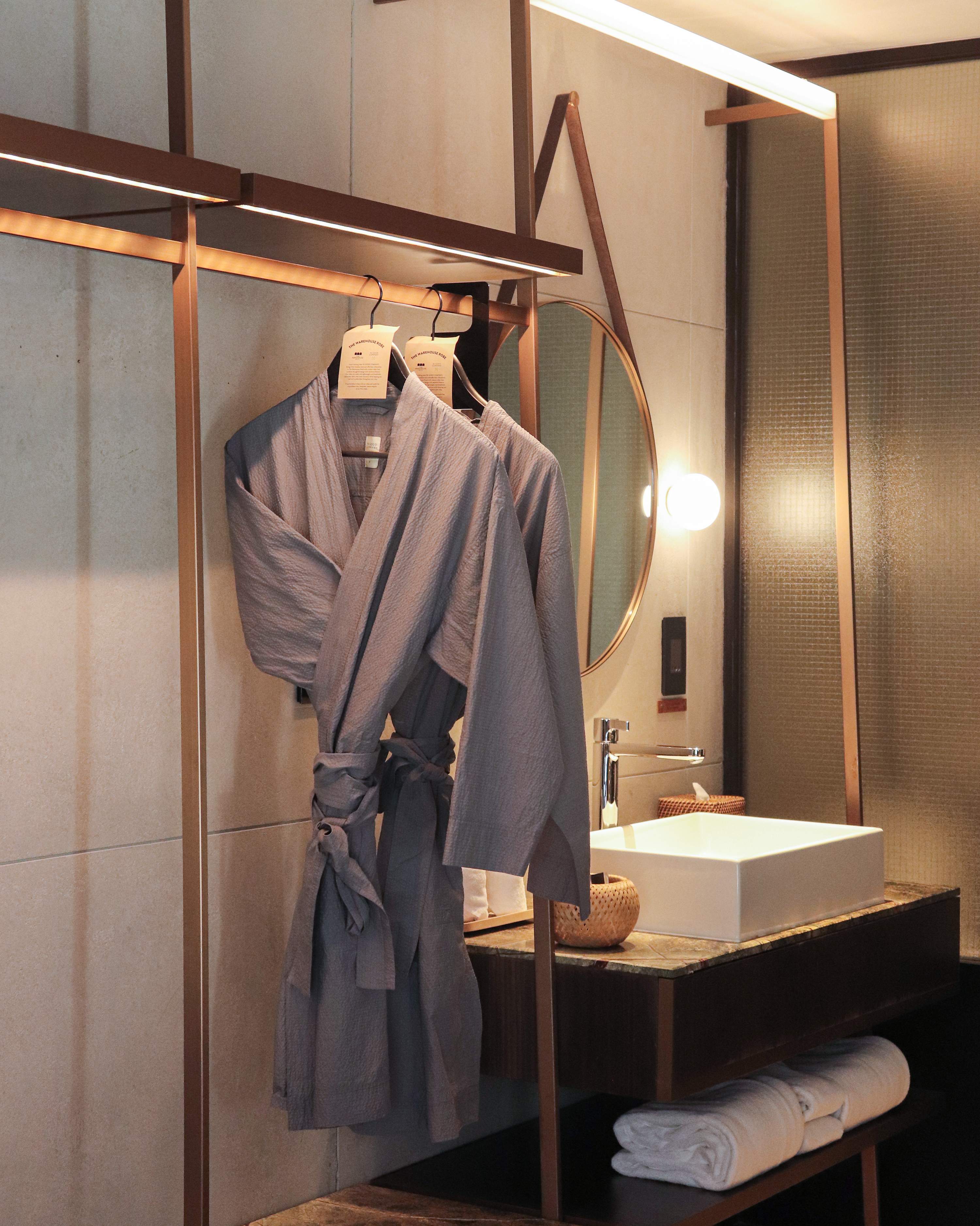 The Warehouse Robe — a collaborative design project for The Warehouse Hotel, by IN GOOD COMPANY.
In imagining The Warehouse Robe,
conventional hotel robe design;
to be visually well-designed,
comfortable to wear over long hours
for taking to the rooftop pool,
As we're adapting to the various shifts of the current pandemic, what would you consider to be The Warehouse Hotel's unique appeal to the local market?
In a bid to escape the humdrum of life and cure cabin fever, guests look to The Warehouse Hotel for momentary respite. Looking at our lush interior and minimalistic charm, no one would have guessed that these same walls once bore witness to activities of vice and debauchery in the early days of Singapore.

As with our site's history, there is more than meets the eye when it comes to a night with us.

We invite guests to be inspired by unusual showcase pieces discovered throughout the hotel, relish a refined take on local fare at Po, imbibe in our cocktails inspired by our site's history at The Lobby Bar, and lose themselves in the tranquility found along the banks of the Singapore River. Sometimes luxury is discovered in the path less travelled.


In less than 10 words….share what you hope your guests will remember from their stay with The Warehouse Hotel?
An icon steeped in local heritage, redesigned for modern luxury.
---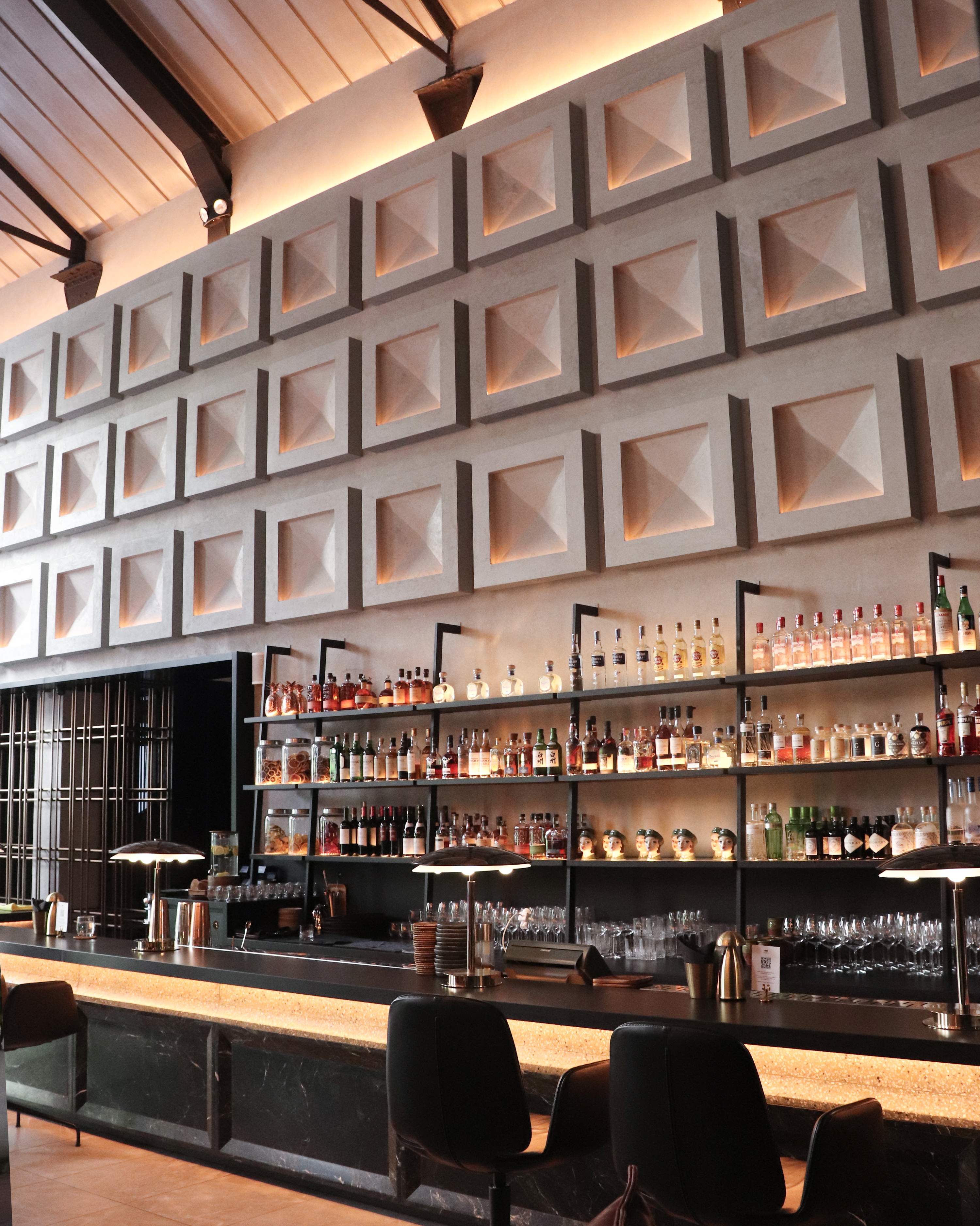 The Warehouse Hotel is located at 320 Havelock Road, Robertson Quay.
To honour this exclusive collaboration…
The Warehouse Hotel invites you to enjoy a luxurious stay
at exclusive preferential rates*, inclusive of:
- Welcome cocktails for two at The Lobby Bar
- Complimentary daily breakfast for two at Po
- A $50 dining voucher for use during your stay
- A pair of $50 IN GOOD COMPANY Vouchers*
* Valid for use with a min. spend of SGD 100
on the E-store, at ION Orchard, Jewel Changi Airport,
Make room reservations for a stay (from 320++ a night) for
the month of September with promo code*:
IGCTWH
*Valid for bookings made for the month of Sept 2021.
Limited to the first 50 reservations for min. 2 night stay at
The Warehouse Loft, River View Room, River View Loft.