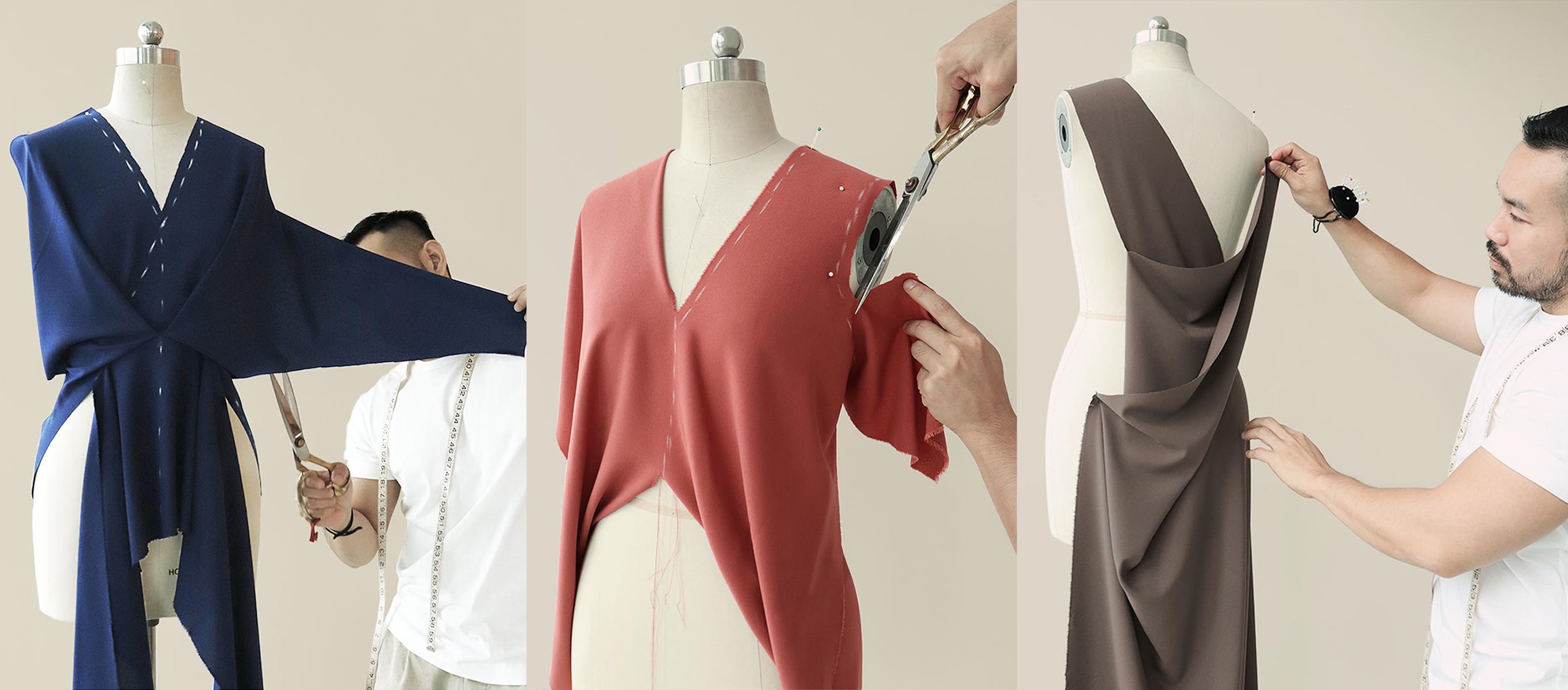 Masterful Visions: Draping On The Stand

One might think of the way luxurious clothes are made: it is mostly always dependent on the creative vision of the individual behind a garment, and their adroit ability to create a masterpiece. But perhaps sometimes — we must understand the other crucial element at play: the unyielding life of the fabric itself.

The way the fabric of a dress moves, twists, folds and rests when it is worn on a woman, holds an understated sensitivity of its own. But alas: it is none other than the designer himself, who must adeptly wield it in his work. The fabric takes the lead, and there is now a dynamic, almost quietly intuitive dimension to the creation of a garment, akin to how a sculptor might shape and chisel away at their craft.

It is with a touch of spontaneity perhaps, that IN GOOD COMPANY's Artisanal Director, Kane Tan, chooses to work and drape directly on the stand: draping a length of fabric on a mannequin, rather than working from a design sketch on paper or adopting a flat pattern making* approach.

We follow him into his creative space to demonstrate how a final paper pattern might be created from his direct work on the stand — before it is sent down to the production team.

*Flat pattern making usually involves using basic pattern blocks that are commonly used in garment design — and making alterations to the paper pattern based on a designer's sketch, before testing it with fabric and fit models.
---
How I Drape by Kane Tan, Artisanal Director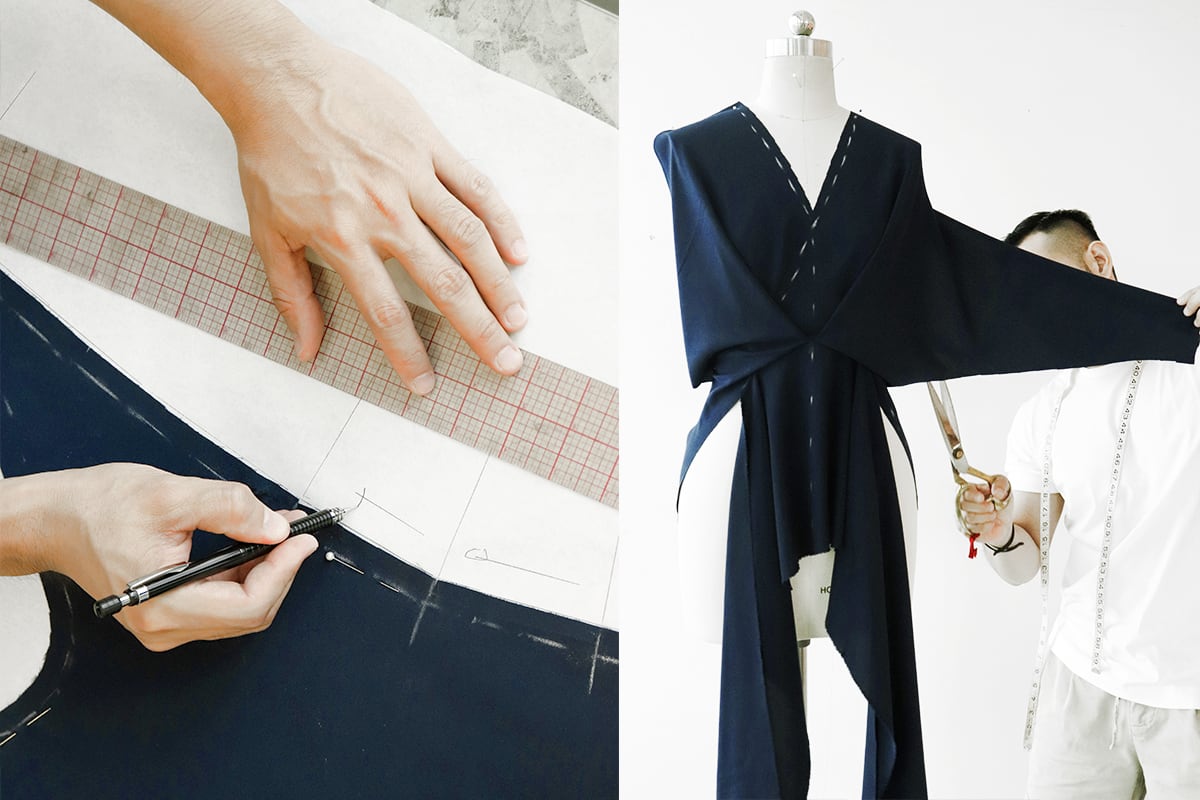 When I drape, I think about clean, fluid lines; a vision of timeless modernity in a single garment.

So naturally, the fabrics I choose must be easy enough to drape, whilst extending just enough of its personality for me to interpret at will.

Imagine linen, and then imagine silk...the way it flows and feels on your body is so visually different, it's only natural that draping with one or the other would produce its own distinctive results.

Of course, I usually cut bigger pieces so there's more to play and work with. It's an experiment: when I'm working directly on the stand, I'm able to understand the fabric better in terms of what it will do for me...and what it won't.
There's usually a particular sleeve or pattern that I might like, so I start with that idea; I'd drape the sleeve or segment that I thought about directly on the mannequin. Specific folds, the creation of a fabric hang, or a unique hemline might be best achieved this way. But sometimes, I simply allow the fabric to hold its own; it'll tell me where it wants to go...and I end up surprising myself with the result.

The fabric's optimal potential is best visualised on the mannequin: I'm able to smoothen out lines and creases, or splice and pin the fabric at just the right spots. Its soft stance is enlightening; I learn how a dress might fall down a woman's body lines, how it'd lean gracefully into her shape, and how it might feel on her.

A fair bit of calculated experimentation comes into play here — but via this technique, we're eliminating any unnecessary seam lines that might be produced otherwise.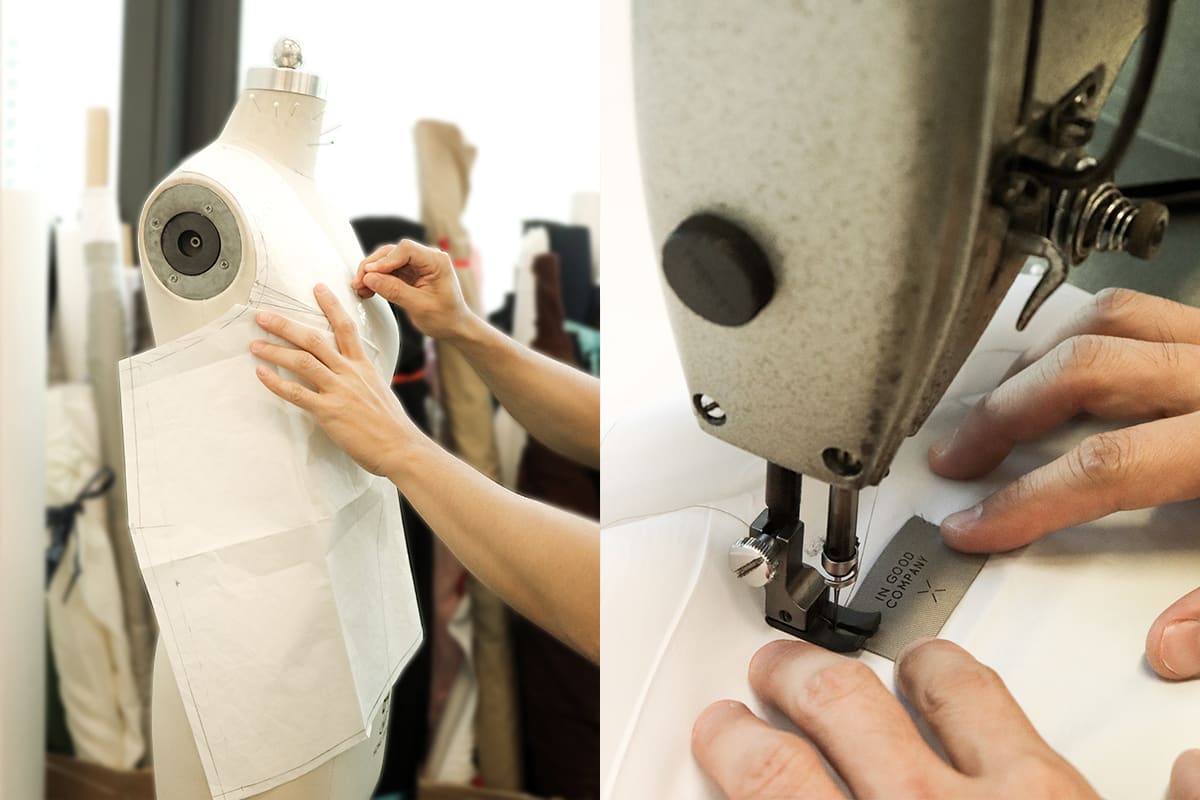 When I do begin draping a segment, it's more often than not the more complex aspect of the garment. So I might combine it with a basic pattern of something that's slightly more simple yet classic to a dress or jacket form. You might think of this like organically filling in the basic aspects of a garment such as the armholes or specific necklines, as I work back and forth between the mannequin and certain design drafts on paper.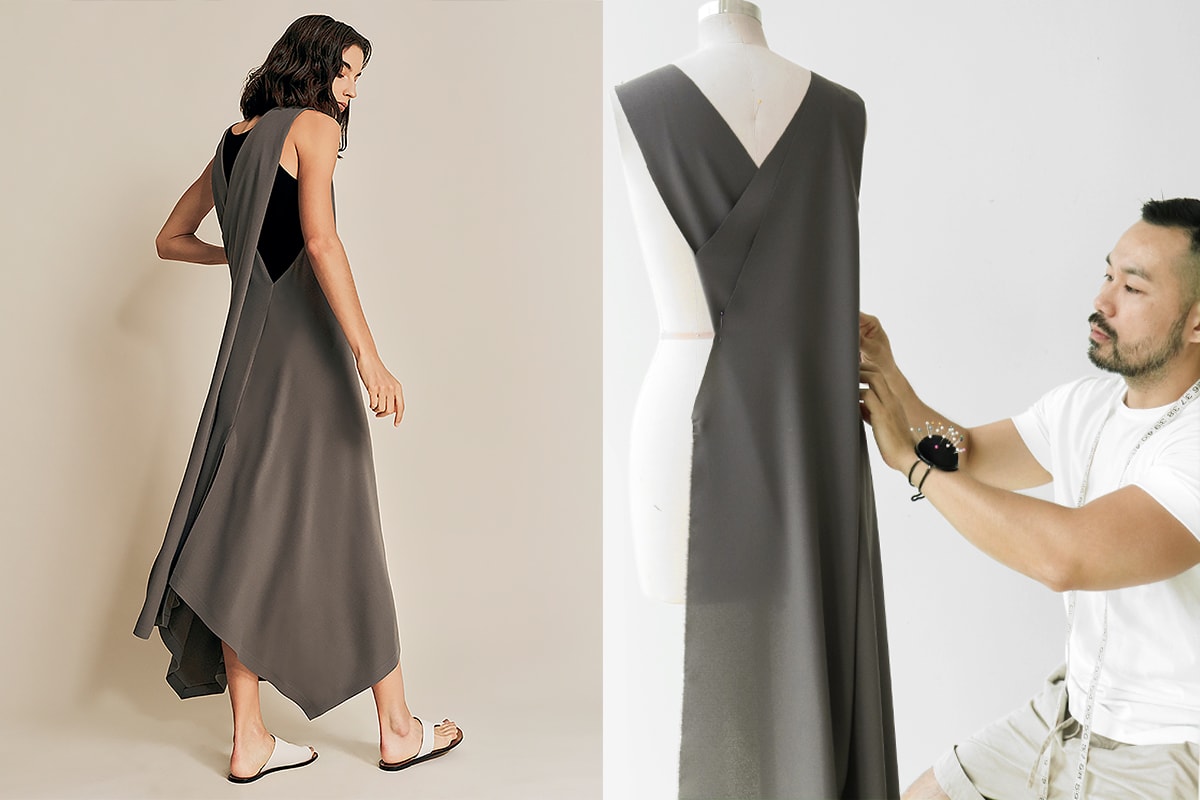 Work done on a stand guides me: my envisioned garment will synonymously alter itself according to the fabric I have on hand.

Ultimately, it's the flexibility to conjure languid forms on a three-dimensional space; it's not something I would have been able to achieve with traditional drafting on paper.
After I've combined both, my designs would then be transformed into a paper pattern to be sent down to production from our atelier. The paper pattern is what would give our production team the most accurate depiction of how to translate the fabric into the final garments you'd see in our stores.

Kane's technical mastery in achieving this three-dimensional draping technique, draping on the stand, is one that is inevitably signature to many of our clothes here at IN GOOD COMPANY.


Discover the rest of the edit here.