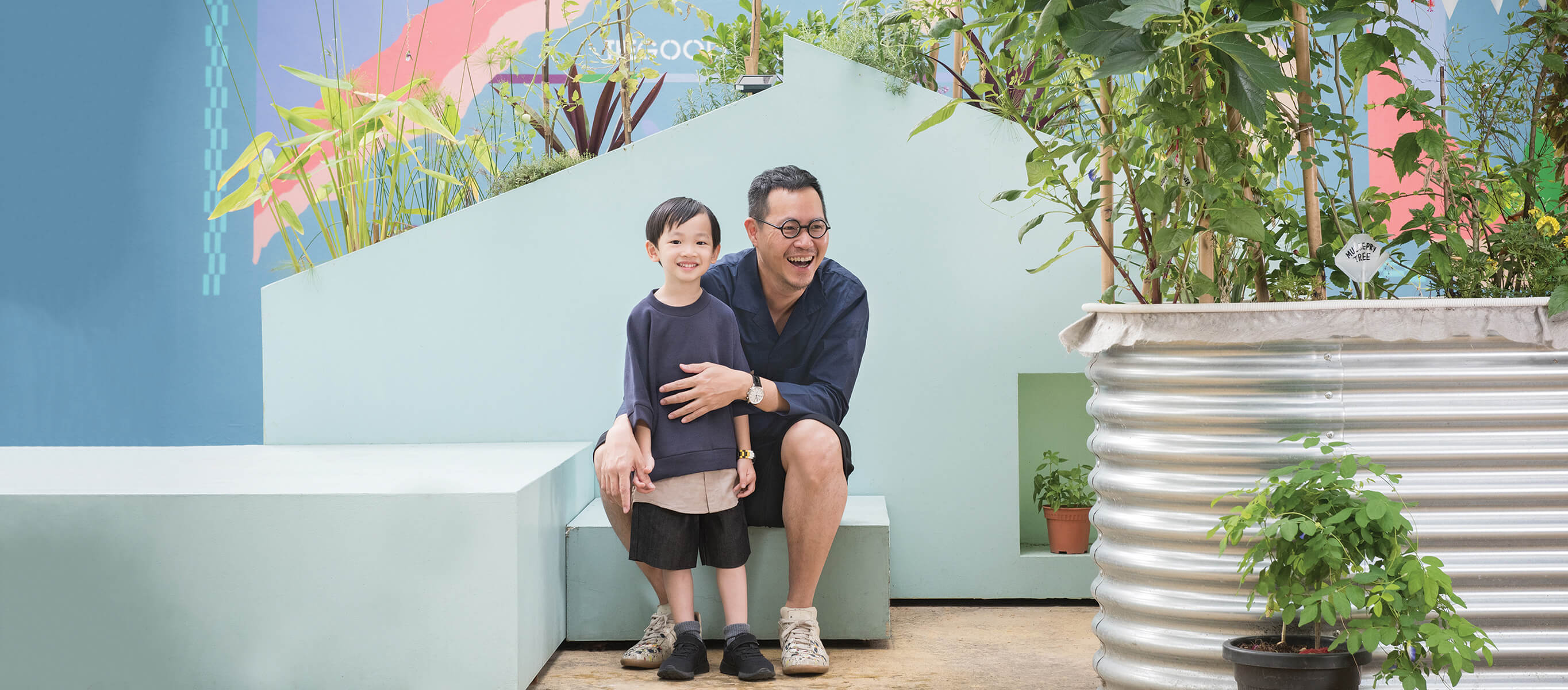 OF FLESH AND BLOOD
From The X press Edition N° 2 (2018)

Reprinted 2 Feb 2021

Fathers. What do they hold dear? What do they lose sleep over? They're as much a part of the family system as our mothers, but we rarely hear them speak about their experience with parenthood. Instead, we often declare them stern and demanding, or sigh at their attempts at humour. Yet when it matters most, there's nothing quite like their quiet presence, steady and assuring, to seek refuge in. In a bid to break past the enigmas they are, we ask three fathers about their children and the moments and memories they share.


Howard & Henry Lo, 41 & 2
The reality of parenthood, told through sickness, health, and the discerning appetite of a growing child. "Back in 2009 I started a restaurant called Standing Sushi Bar; it's since grown into multiple branches and concepts so now I run a restaurant group with my wife, Nan. Henry was born on April 1, 2015. He was a couple weeks early so it was quite the April Fool's prank. He has quite an adventurous palate; I think Nan has overexposed him to the wonders of food and now we have a child that craves for salmon sashimi and dry-aged steak. He needs to learn the joy of fast food so we can affordably feed him.

He has a Duplo set of a pizzeria. He enjoys putting the toy pizzas into the fake oven, waiting a bit, taking them out, and then forcing us to pretend we're eating them. Like many kids, he has fun with trains and buses, and seems to be an animal lover based on how much he likes spending time with our four cats. He has a mischievous streak in him, purposely putting items where he knows they don't belong, looking at us and laughing if we notice, and then moving them to their proper place.

The idea of having a child depend on you is a lot of pressure. Across our organisation, parenthood has made me evaluate how accommodating and supportive we are of parents. It's made me smarter about risk; there's a sense that time is shortening and I need to ensure that we can create the best possible foundation for Henry's future. Early on, we experienced one of the worst fears as a parent—Henry was diagnosed with neonatal lupus. Thankfully it was the less serious version, but waiting to hear whether it was life-threatening was hard. The happy moments of parenthood tend to be what are celebrated and communicated to everyone; it's surprising how much the toll that children take on your career, marriage, and well-being is downplayed.

Every day, Henry wakes me and Nan around 6:30AM and natters away about his random thoughts; we get him ready for daycare and he loves "helping" make coffee or putting salt in the eggs. I take him to daycare after that, and it's our ritual to stop by a nearby garden and see if we can spot the five black cats that live there. We'll spend a minute staring through the fence, and Henry always looks very happy if he manages to spot them.

In the early evening I pick Henry up and we'll spend some family time together before his bedtime. He is moving through dramatically different phases quickly, and each phase brings new humorous or heartwarming moments. If I'm going to pick one though, it would be when he whispered to Nan, "Ssssh...daddy is sleeping over there. Quiet." It made me happy that he's displaying compassion, and maybe he's also indicating I'm his favourite parent. I really, really hate to be touched by people and I'm not a big fan of hugging. Henry seems to have taken after me in this regard and will go out of his way to avoid hugs from most people. It makes me happy to see that. Nan says that Henry has my empathy and shows his love through his actions. He is always more than happy to get us drinks from the refrigerator or feed the cats when he sees their food bowl empty."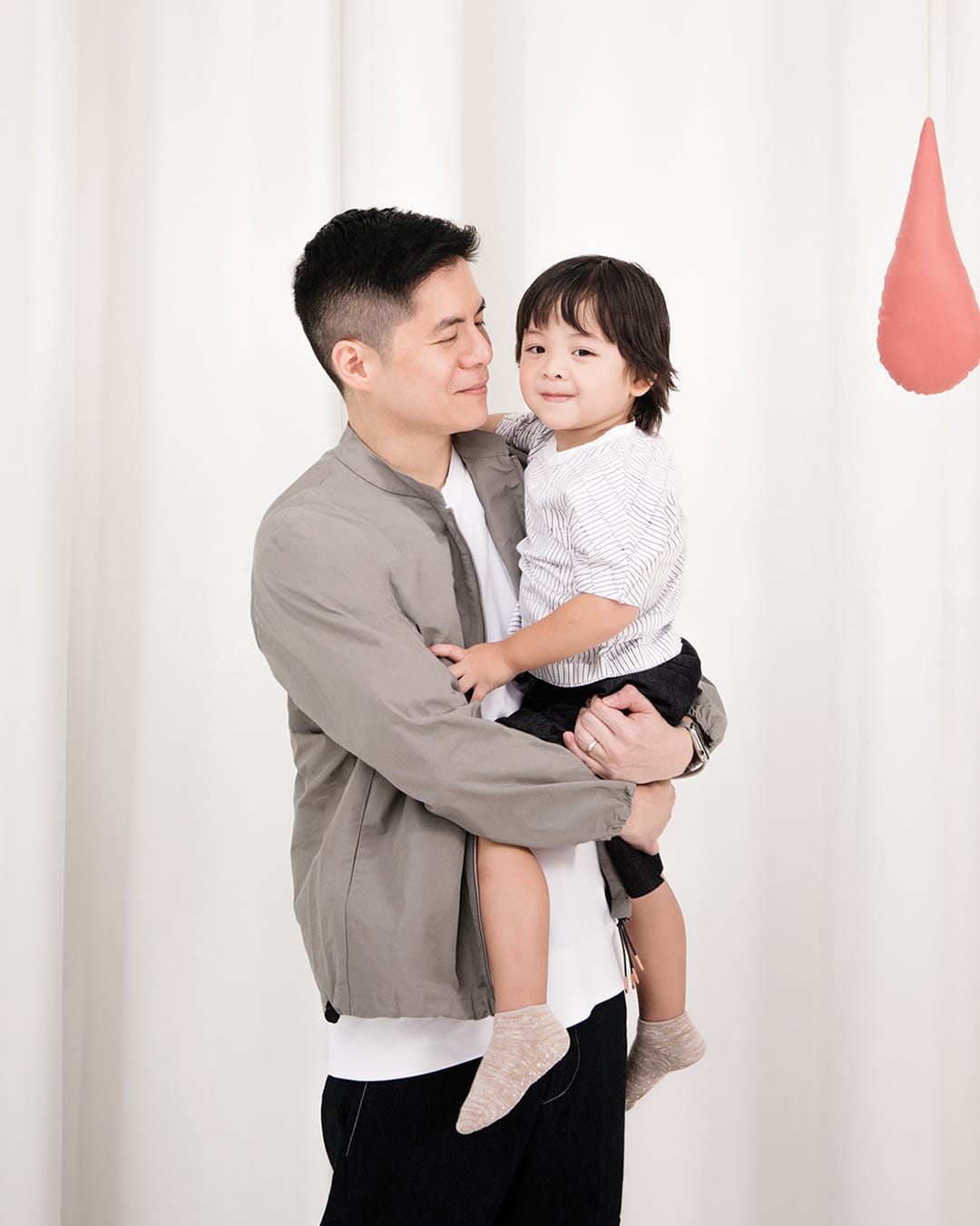 Shawn & Luella Lee Miller, 38 & 2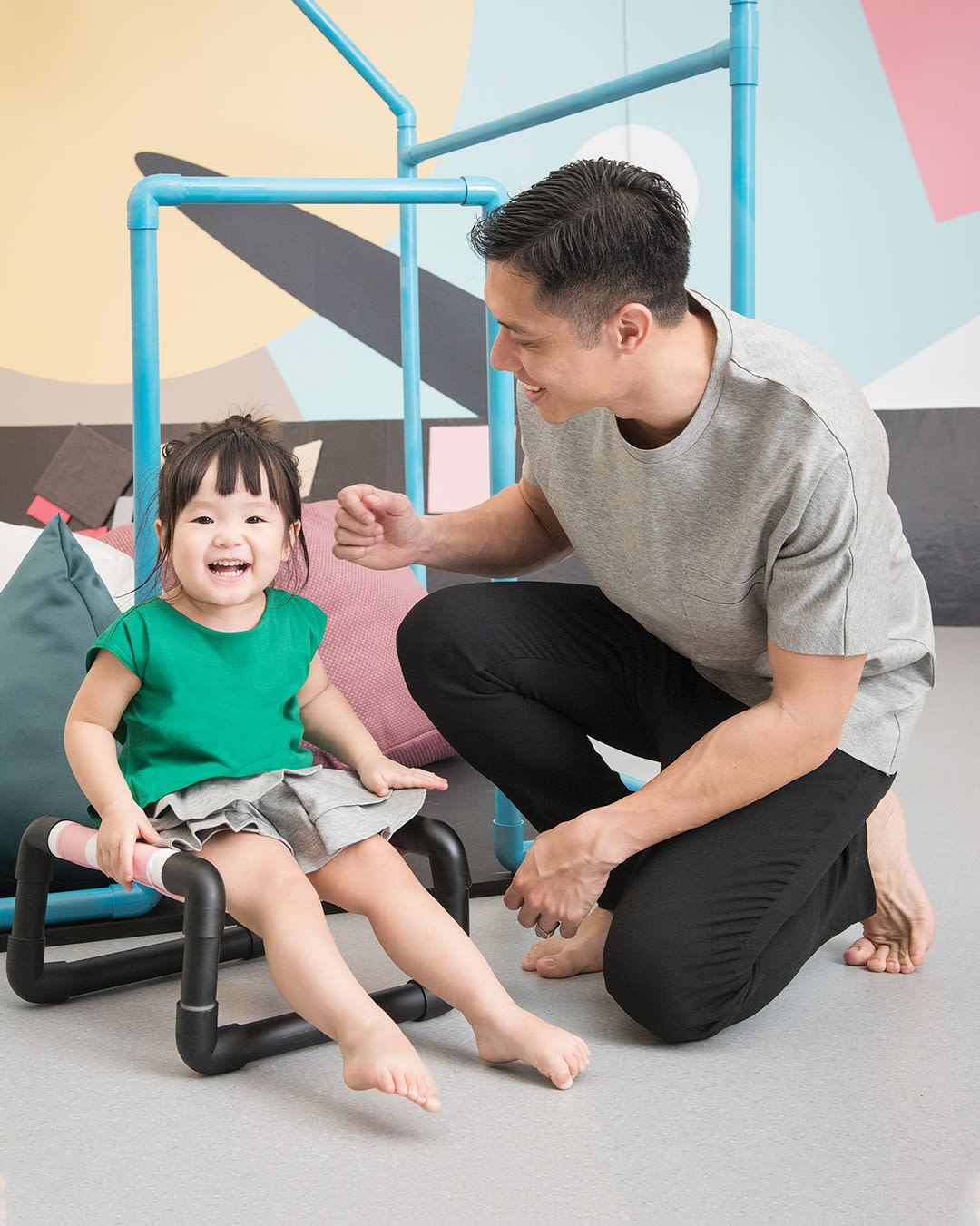 Moments of hilarity, a shared love for storytelling, and the sobering view of society through the lens of fatherhood.

"I used to say I love writing, making films and telling stories, but these days it's more like...I love coming up with new ideas. And my best idea (made with my better half, Ginette Chittick) has been our daughter Luella. She's two now and loves small things like thumb drives and anything green. When I'm not doing daddy duties, I work as a video producer/journalist, creating videos for The Straits Times.

Lately, Luella has this habit of listing the things she's scared of: "Scary Leaf. Humpty Dumpty. White Baby (a statue at Gardens by the Bay). Thunder. London Bridge. Totem Pole." Each of them has their own story. I'm amazed by her memory and it cracks me up whenever she adds new items to the list. When we bring Luella out, she waves and says hi to strangers. Some wave back but many don't respond. Now, she doesn't do this as much. It breaks my heart to see her spirit broken and to have the cold side of society introduced to her at such a young age.

I realise once you become a parent, you can no longer be selfish about your health as your children will be the ones paying for the consequences of your decisions. So I pay more attention to my nutrition and training (I train also to dispel the myth of the "dad bod"). My eyes have also been opened to a different side of our country like cigarettes at the playground, the rush for elevators, and the high cost of early childhood education. As a journalist, I feel a responsibility to share these. I have also become more interested in policies and policy making. This could be a subconscious desire to want to create a better world for Luella. I always imagined we would enjoy watching football together (Luella and I are Liver- pool fans!). She used to at the start, asking things like, "What happened to the man? Why did the man fall?" But now she just keeps saying, "I don't want to watch daddy's football."

Luella loves asking questions; there was a time when she lost a Lego boy called Bobby and would ask everyone, including random strangers, "Have you seen Bobby?" We have since found Bobby so now her favourite question is, "Have you seen a rainbow?". She also loves using our phones to take pictures, and listens to my stories attentively — a patience I could adopt for myself at work. [I see myself in Luella's] love for stories and her vivid imagination. With her mummy settling music, fashion and design, me with writing and film...she can be a painter or a comic book artist! I'm already keeping her abstract hand paintings in case she gets famous one day. We say good morning to everything when we wake up. And when we come home, we ask each other, "How's your day?" and share what we did that day. Luella also likes to ask us to pretend to be animals, people and things. When she sees bird poop on the ledge, she'd go: "You be a bird. Why did you leave your poop there, bird?" Oh well... looks like she might just end up being a comedian."


Chris & August Lee, 47 & 4
The fortuity of parenthood, played out in everyday routines and new ways of being.

"I'm a designer and the founder of Asylum, a multi- disciplinary design studio based in Singapore. Some of the projects we completed recently are an Aesop store, multi- brand boutique Surrender, and The Warehouse Hotel. My son is August, and he is four and a half years old. I guess most kids like to doodle and make things so I think it's too early to say if we have similar interests. I do not intend to steer him towards the creative industry but he will have a head start because we bring him to so many museums and exhibitions when we travel. There have been many unexpected, wonderful moments [with August] but for me it's what we do everyday that I enjoy. It could be as simple as driving him in my car and having a casual conversation about trees. Every day is a bit different. We enjoy taking him out for long dinners whenever we can, and I read Tintin to him every night before he goes to sleep — the same ones I had when I was growing up.

Many parents change their lifestyles completely when they have kids, so I always said to myself not to become like them if I ever became a parent. I'm glad to say that we are fitting him into our lives instead of the other way around. We still travel as often as we can, go to music and art events and hang out with our friends. The most difficult experience I've had as a father is having to shorten my trips for work. I used to love being away because I get to explore different places. Now I try to come home sooner so that I can spend more time with him. Weekends are sacred. The one thing that I didn't expect was that I'd enjoy fatherhood as much as I do now. It has certainly made me more efficient and precious with my time at work. Having said that, I am also enjoying my second peak because I want to continue to stay relevant and impress him. Ha... fatherhood has also made me more conscious of my own behaviour. He looks up to me and tries to emulate what I do so I have to set a good example. August takes on quite a bit of my personality so I am amused but horrified at the same time! He is demanding and impatient which I am equally guilty of. I was a difficult kid growing up so I am expecting a bumpy ride!"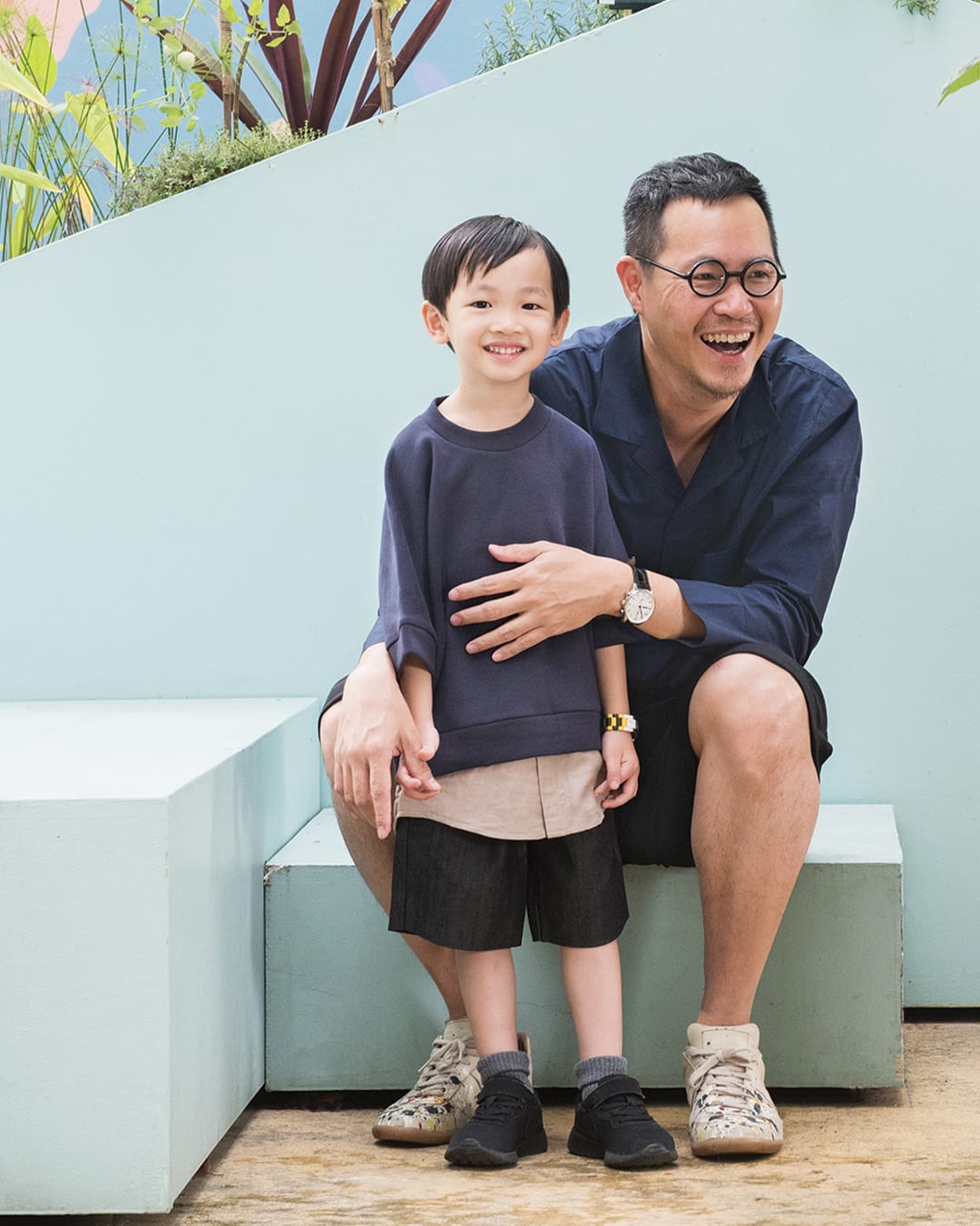 Discover our latest Men's edit here.