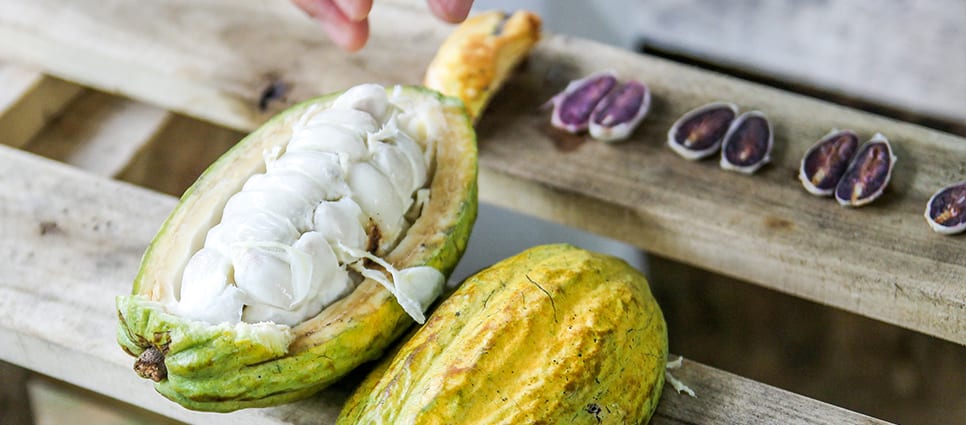 The Fossa – an animal unique to the Madagascar forests – is known for its fierce and wild personality. These forests are also the origin of the very first craft chocolate bar the FOSSA Chocolate team had tasted at the beginning of their chocolate-making journey. It's no question that FOSSA Chocolate had not only taken inspiration from the name of the animal, but its attributes as well. Their handmade chocolates utilise an explorative approach;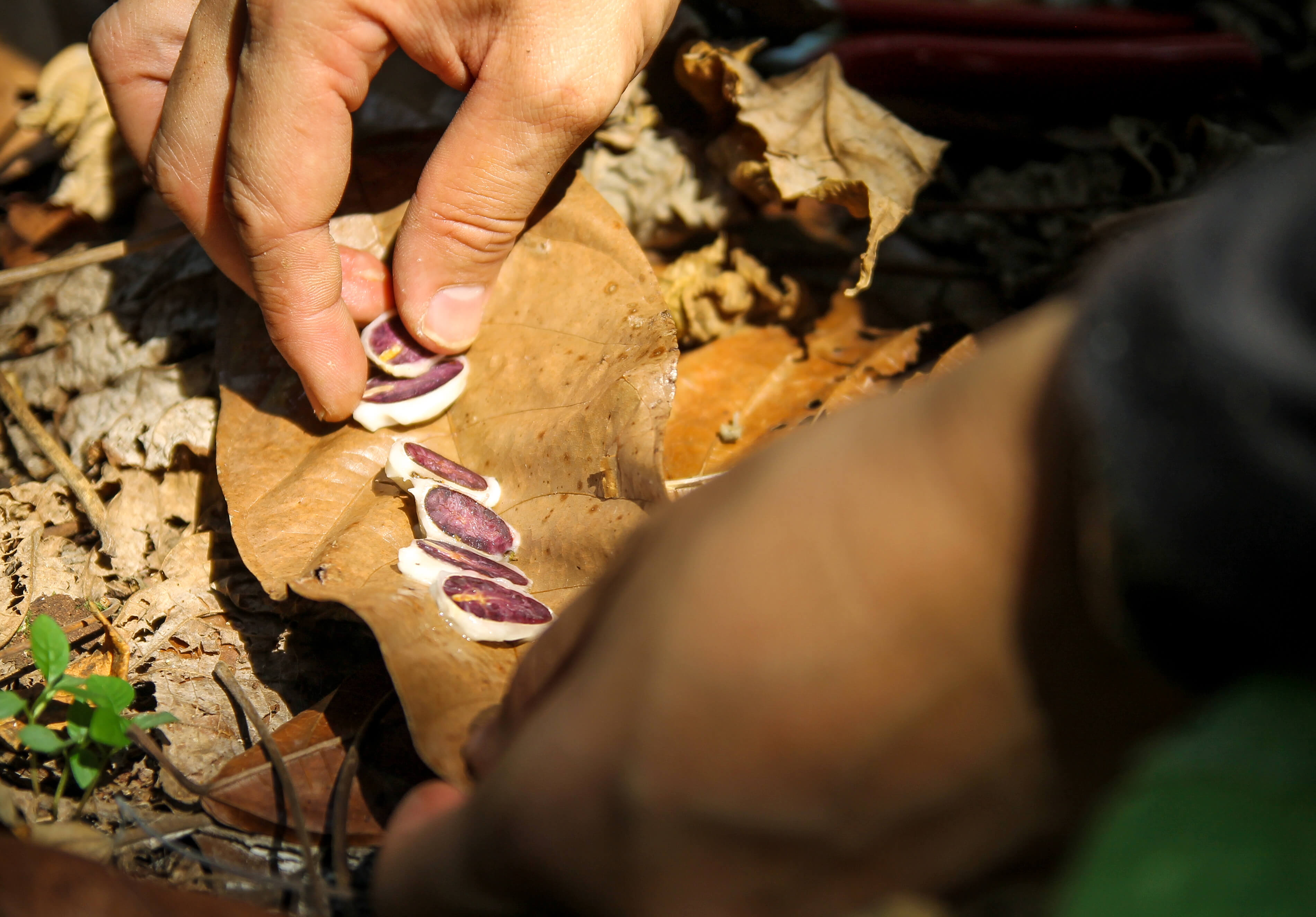 They are unafraid of using bolder
ingredients – ones that you might never
have imagined to be associated with
chocolate in the first place.

Salted Egg Cereal. Shrimp & Bonito. White Sesame & Seaweed. Duck Shit Dancong.

These are just some of their inciting combinations that continually fascinate us. Yet, this unabashed experimentation of incidental flavors remains to be just a smaller part of what makes FOSSA Chocolate a homegrown brand we love.

Apart from these curious bars, we find ourselves peeking into the immense efforts of the chocolatiers behind it all – Charis Xie, Jay Chua and Yilina Leong – the founding team of FOSSA Chocolate.

Their focus remains on manifesting the unique flavors that different single origins can offer – through means of roasting and winnowing the cacao, grinding, refining and tempering the chocolate in small batches, before finally individually hand-packaging the bars of chocolate themselves. This process has always been a time-consuming one that requires not just patience but a constant drive towards bringing out only the best flavor possible from a cocoa bean.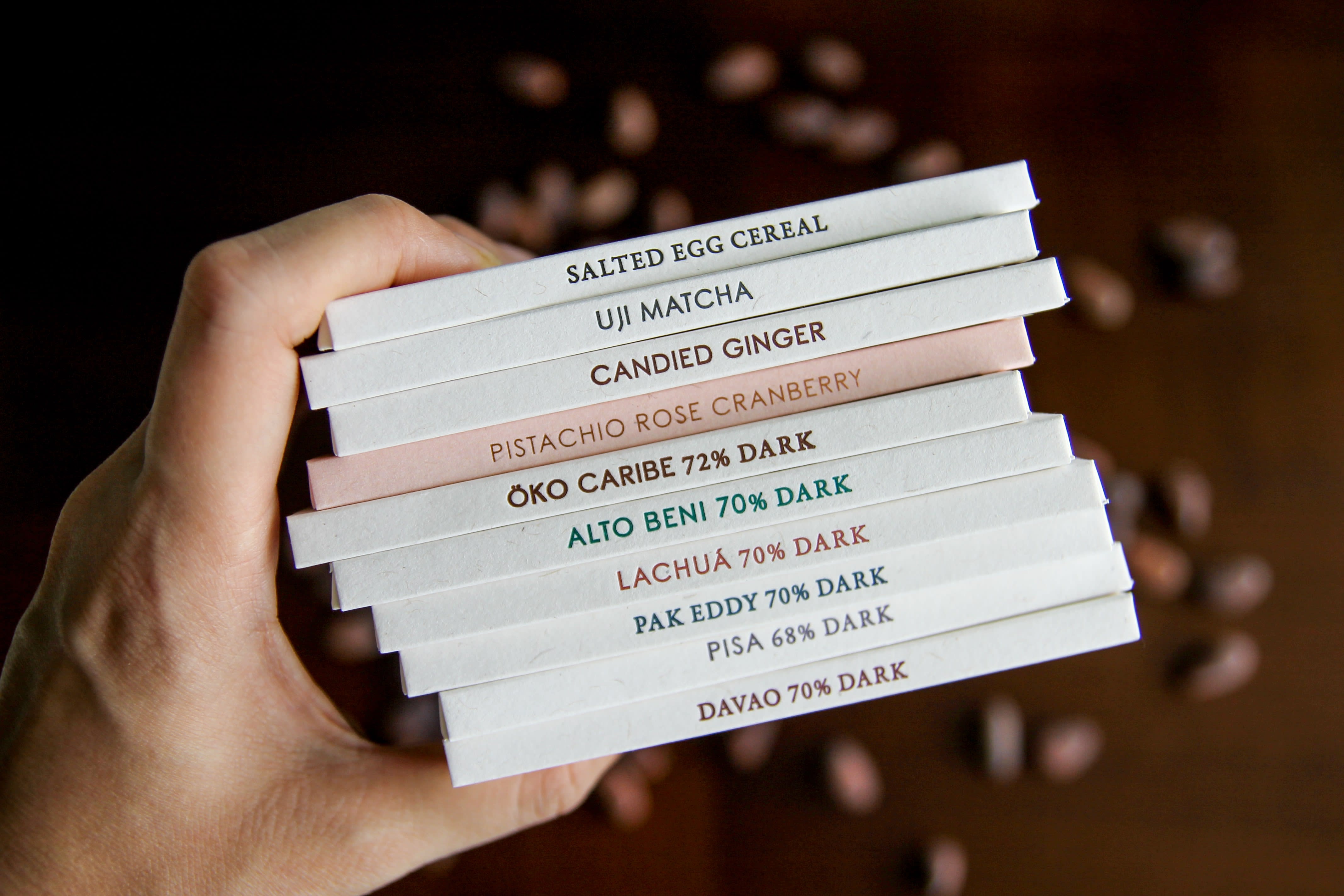 The entire chocolate-making process begins from the team's careful (and ethical!) search for cacao farms from around the world. To all three of them, paying a premium is sometimes a given in order to guarantee the quality and craftmanship of the beans that they source. Commodity-grade beans used by the industry at large are a definite no for them, and they also make the conscious effort to ensure that all the farmers they work with are paid fair living wages.

It's also through this slow yet mindful means of sourcing that they sometimes find rustic gems of cocoa farms. One of their single-estate flavors – Pak Eddy – is derived from cacao personally cultivated, fermented and dried by the innovative farmer, Pak Eddy* in his humble estate in Yogyakarta, Indonesia. *translated as Uncle Eddy

Pak Eddy's cacao journey began when the Indonesian government back in 1992 had been giving out seeds for free. Although many farmers were growing the beans, Pak Eddy remained one of the few farmers who persevered and invested extra time and effort into his trees – despite the concomitant fall in cacao bean prices. It's no wonder that FOSSA Chocolate continues to work with Pak Eddy: a clear example of a farmer who always seeks the best for his cacao beans.

On the other hand, some of their chocolate flavors also don't fall short of attracting an intriguing amount of attention – be it for the flavor choice, or even its name. As the team aims to serve diverse flavor profiles, sometimes this entails mixing their chocolates with infusions of seemingly random flavors – ranging from Salted Egg Cereal (inspired by a local tze char dish they enjoyed often growing up) to Sake Kasu (alongside other Japanese-inspired flavors after their trip to Tokyo).
For some others – the flavor seems to
trump its name any day; Duck Shit
Dancong (a literal translation from Ya Shi
Xiang) retains its place as one of their best-selling chocolates.


Their constant search for only the best bean of the crop - serves as testament to their passion for everything chocolate-related. Their neat little bars aren't just mere products to be consumed, but are representative of their dedication to the comprehensive and creative craft of chocolate-making.


Despite their small number – their teamwork is complementary: what one lacks, another makes up for. At each stage of their making process, time and energy is taken to do their due research, and their desire to tell a story shows; be it searching for good farms, discovering the optimal roasting method for a cacao bean, or designing packaging for their chocolate bars – their efforts come together like jigsaw pieces of a puzzle.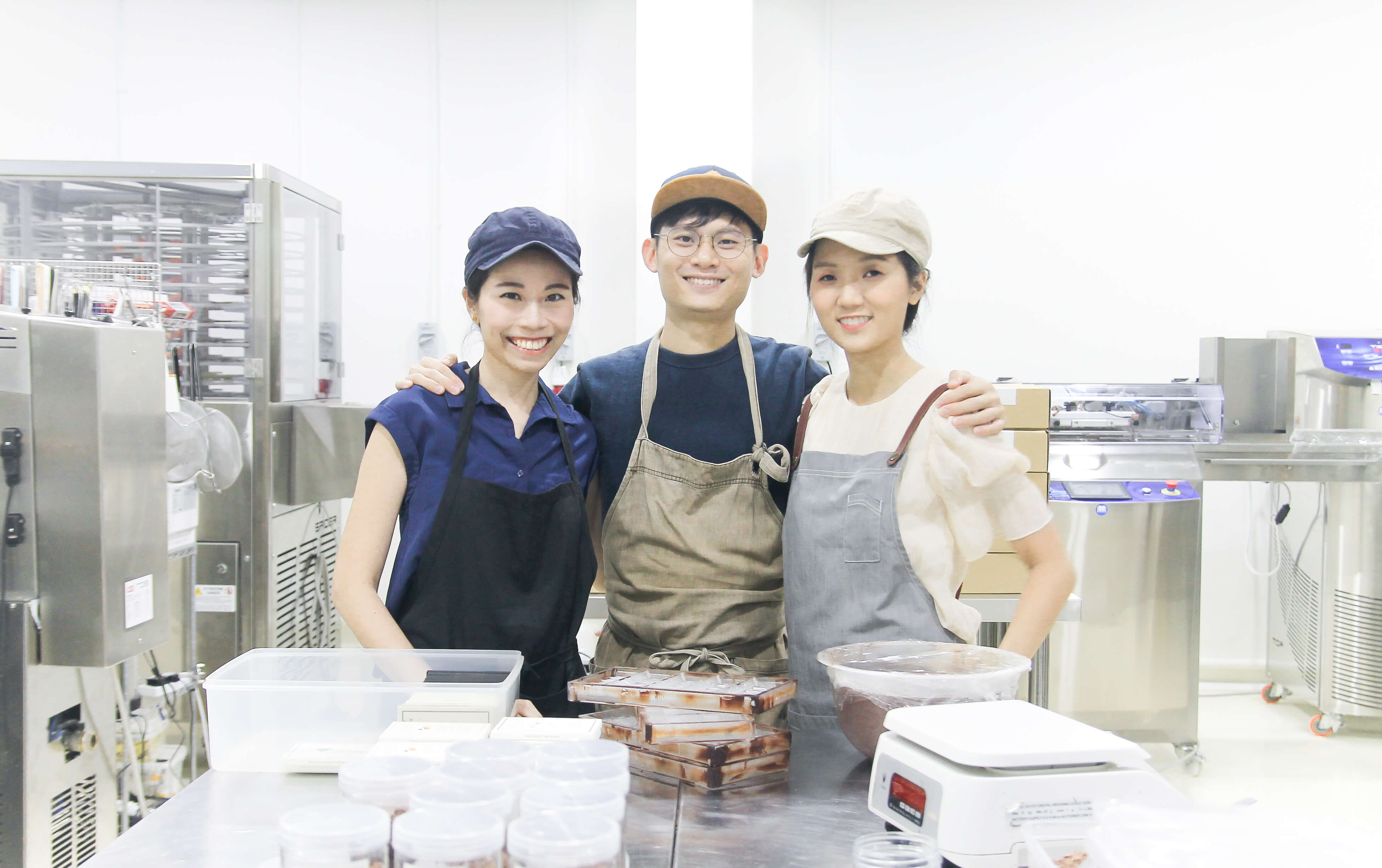 Of course, their journey didn't come without its fair share of challenges. Starting off in a market overtly proliferated with mostly cheap mass-produced chocolates, the team found it challenging to convince consumers and retailers alike that quality chocolate was worth so much more. Despite this difficulty, FOSSA Chocolate constantly seeks to create even better chocolates to help more people understand the price point behind true craft chocolate.

Maybe it's their admirable craft, their strong work ethic, their curious flavors, or just simply the masterful taste of their chocolates…but whatever it is, we're here for it.


As the true experts on chocolate – the team at FOSSA Chocolate often conduct guided workshops to introduce the seemingly far-removed world of artisanal chocolate to well…regular folk like us.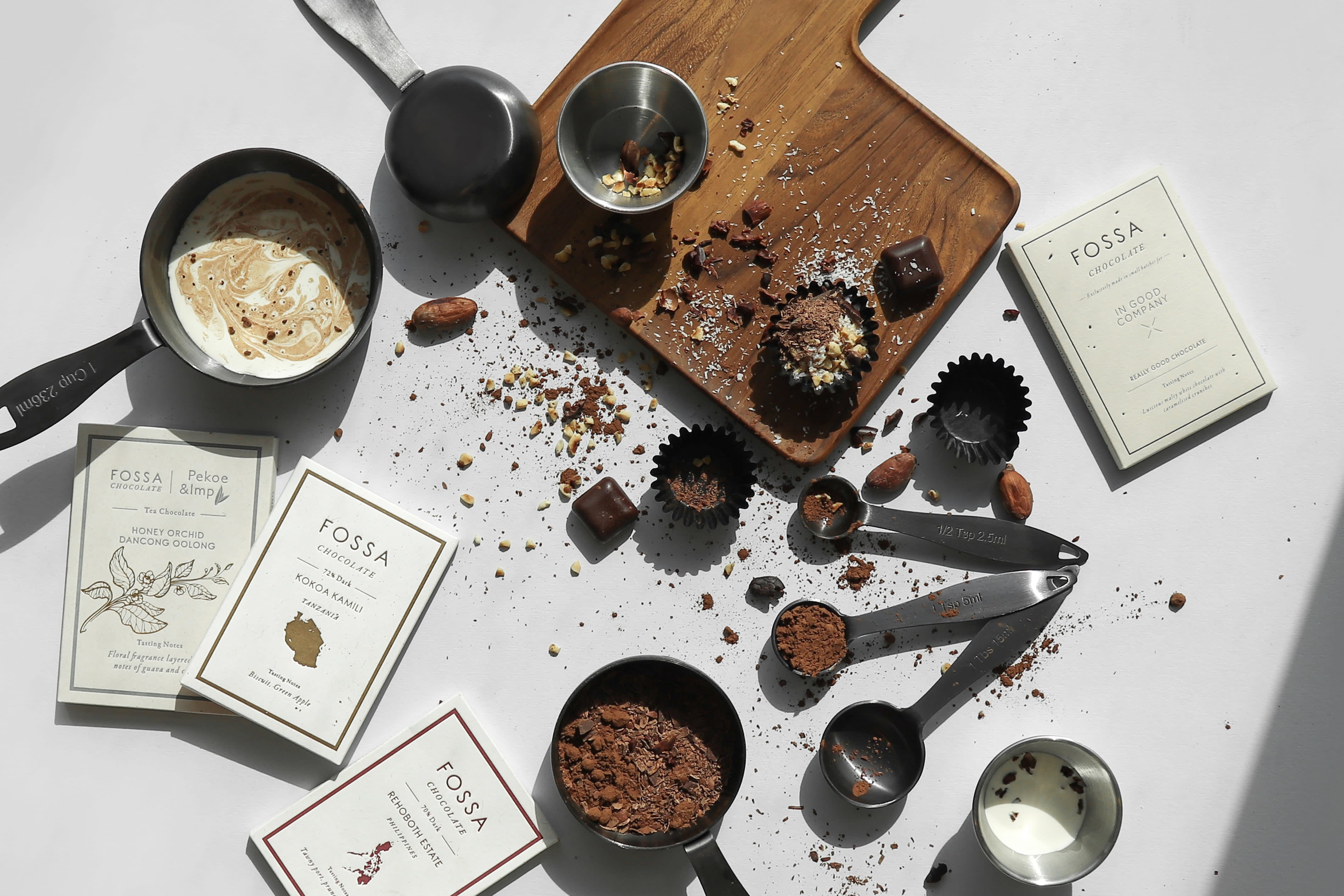 In these workshops, they teach the art of appreciating deeper and more abstract flavors – leaving you never wanting to return to those commodified chocolate bars again. On top of that they let you get in on the fun of making your very own chocolate truffles – all out of Fossa-provided quality ingredients.

We thought this would be a perfect opportunity to introduce FOSSA Chocolate to you – and have you experience all the cocoa magic for yourselves.
Join us on 25 July 2020 for a chocolate-tasting
and truffle-making workshop with the friendly
artisanal chocolate experts from FOSSA
Chocolate.

You don't need any prior experience, just a curiosity to learn and have fun with all things chocolate.

For $209, you'll get a guided two-hour workshop via Zoom with FOSSA Chocolate and leave with a platter of chocolate truffles made out of a freshly provided Truffle Making Kit. You can also expect 5 decadent bars of Fossa Chocolate for the Chocolate Appreciation segment and 1 unique bar of IN GOOD COMPANY x Fossa Chocolate Malt Chocolate.

P.S. We're giving you an extra 20% discount code from IN GOOD COMPANY – only for workshop participants.

Spaces are limited – so don't wait around. Registration closes 22 July 2020.