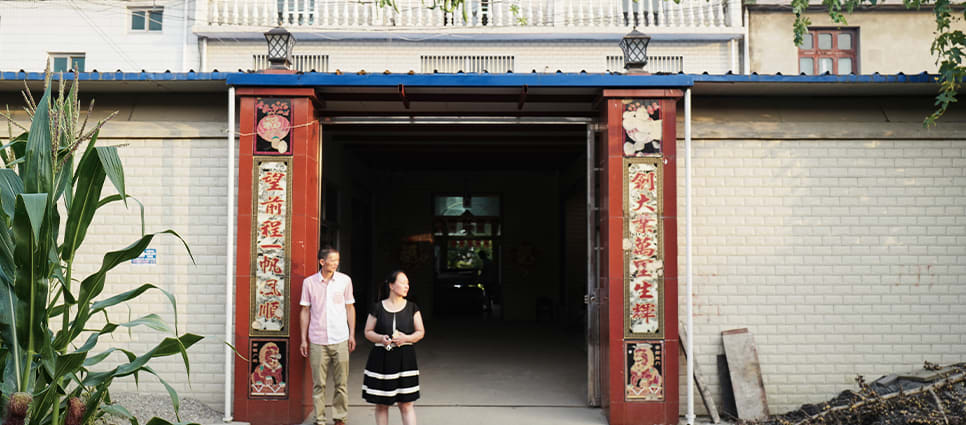 BEHIND THE SEAMS: A View Into A Modern Cottage Industry
from The X Press Edition N°2

Located in Taixing, a country-level city in Jiangsu province, China, the illustrious IN GOOD COMPANY production facility is a three-story country house nestled within a quiet farming community. A modern cottage industry run by husband-and-wife team Guoping and Xiao Zhou, it's a mid-sized abode that houses their family of six, and a lively menagerie of chickens, ducks, goats, a mongrel dog, and four newly birthed kid goats. It is also where 15 specialised staff work on IN GOOD COMPANY pieces. Fifteen minutes' drive away, a new factory space for 20 other workers has been set up in recent months to accommodate increasing demand; a hub of activity where designs and samples are translated into full-scale production, along with all its technical and problem-solving processes. It's an everyday operation that the customer will never connect to the final garment hanging perfectly in-store.

The production facility is owned by Doris Wong, an old friend of IN GOOD COMPANY's whose keen eye for exacting quality is matched by a militant work ethic, and softened by her mother-hen management style. A tour of the production grounds reveals not just the inner workings of IN GOOD COMPANY, but also the cross-intuitive working relationship that Doris, Guoping, Xiao Zhou and the design team share. From paper to garment, the journey of each IN GOOD COMPANY piece is an intricate system of creative exchange, where design acumen and technical prowess doesn't just end at the label's Singapore-based design studio and sample room.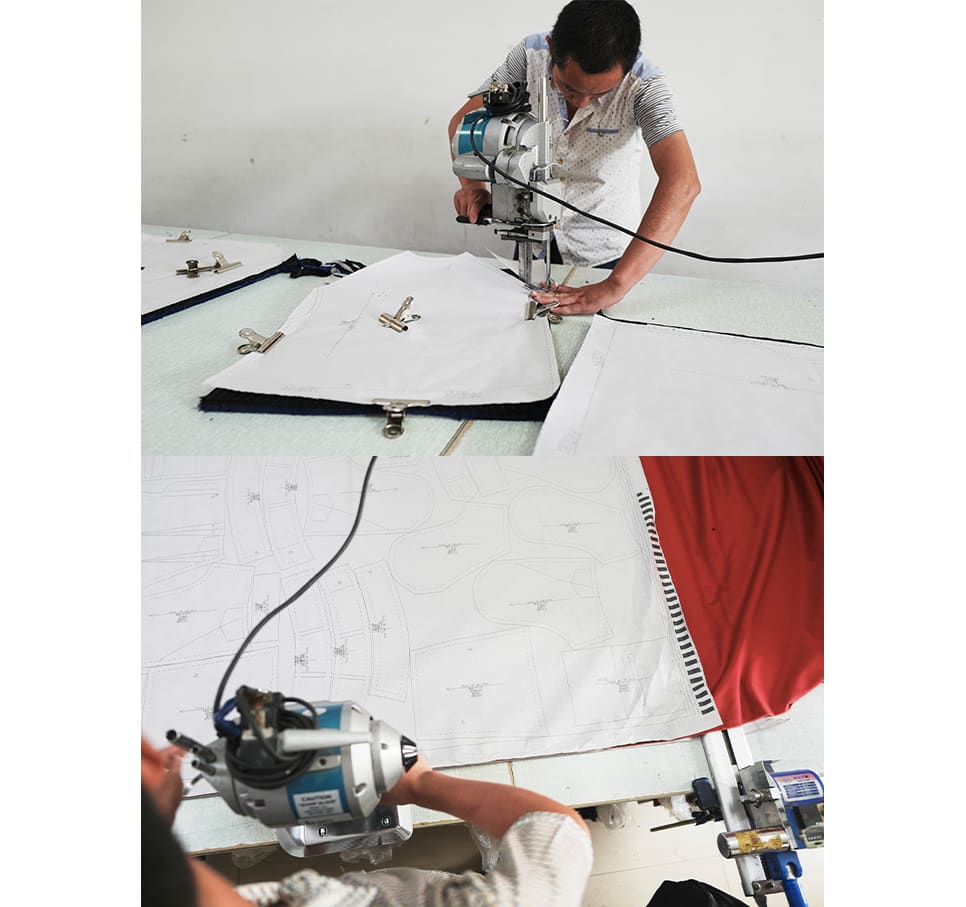 The most complex
pieces such as jackets and
draped dresses are made from
start to finish by a single person,
producing each piece
like they were samples.



Simple can be harder than complex, and IN GOOD COMPANY clothes, while minimal and clean-cut in design, can be challenging to make, requiring a deft hand and a technical mind to complete. "No manufacturers will fight to work on IN GOOD COMPANY orders — it's too complex," shares Xiao Zhou. "We are very selective of the workers that we hire. Unlike other factories with segmented production lines, our workers are multi-skilled and knowledgeable enough to work on many different aspects of the production process. The factory is small so everyone has to be able to carry their own weight when it comes to keeping pace with a high level of quality." Indeed, the most complex pieces such as jackets and draped dresses are made from start to finish by a single person, producing each piece like they were pristine samples — a process that is more common in luxury production ateliers than a mid-priced brand's production house.
"Our youngest workers are in their early thirties and they must have at least a decade of experience in order to work here. There is no room for the inexperienced and no time for careless workmanship." Many who work in the factory are of familial relations — most live just down the street. A close-knit factory community, there is the nephew who cuts the patterns, a cousin who specialises in handwork, the third uncle who's a master tailor, and childhood friends who have returned home after working decades for large-scale factories in bigger manufacturing cities. The story of home-coming is not uncommon here. Filial piety and keeping close family ties is an intuitive virtue and moral conduct for the villagers and workers. "I worked almost three decades away from home in Malaysia and Guangzhou. It was time to come home," says Guoping, who started managing the production facility together with his wife Xiao Zhou eight years ago. "My parents were getting old. We missed many years of my daughter's formative years but it will be different for my three-year-old son. Most of my workers have returned to this village to work with us because we pay well, and they can take care of their ageing parents close by."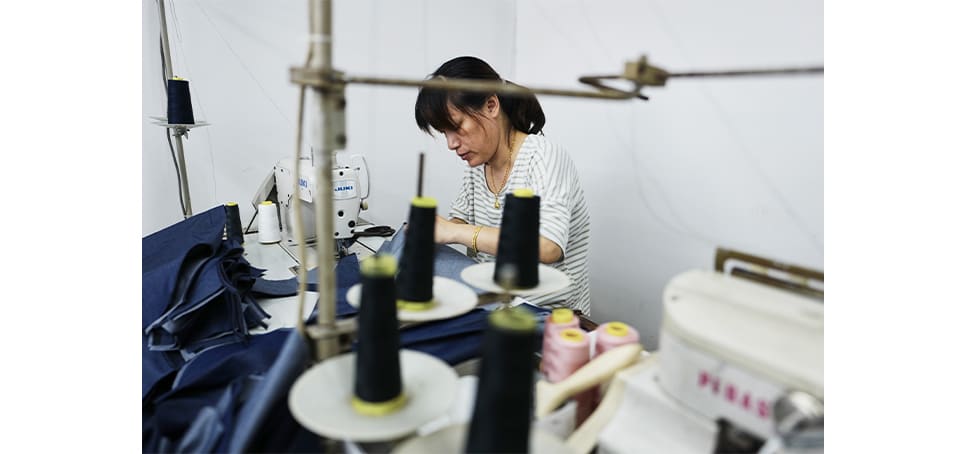 Her father-in-law fishes in the
nearby stream every day,
while her mother-in-law plants
most of the crops in the nearby
allotments, ...
A modern cottage industry in the purest sense, Guoping's house in the countryside is both a factory and comfortable living quarters, with most of the surrounding land dedicated to farming. Sustainability is a way of life for them; a shared set of values and passion for the land. "Rural people recognise the benefits of fresh produce: health is wealth. We grow what we need and we eat what's in season — there's very little that we need to buy. What we can't consume or pickle, we will sell," says Xiao Zhou. Her father-in- law fishes in the nearby stream every day, while her mother-in-law plants most of the crops in the nearby allotments, an impressive rotating crop of rice, gingko nuts, edamame beans, cucumbers, winter melons, and other vegetables. Herbs, spices, and bulb plants such as garlic and chilli are exchanged in neighbourly barters for peanuts and sesame. All are planted and harvested organically without pesticides.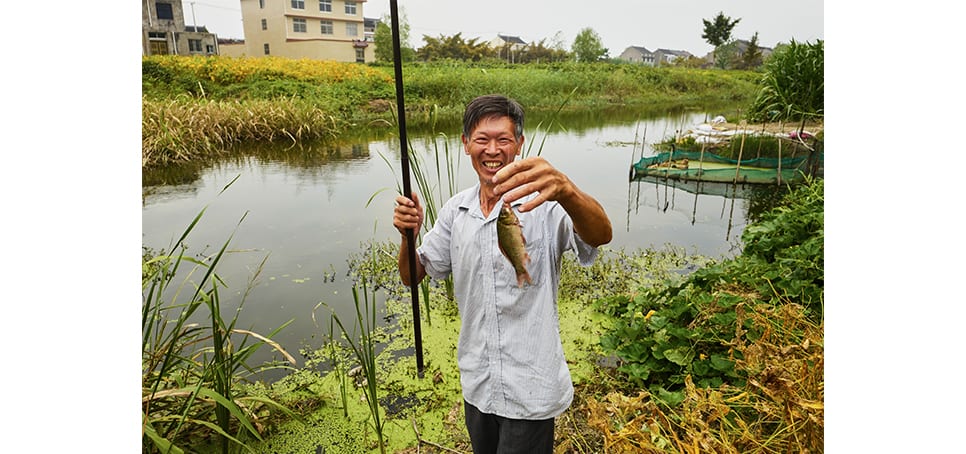 From March to May, the pastoral land is awash in sunny yellow fields of canola flowers. By June, these will have been harvested and pressed for canola oil which they use for cooking. Rice and wheat is planted from May to September, and used in their everyday meals that also includes freshly made bread (baked in a wok over wood fire rather than in an oven). 'Waste not, want not' seems to be their living motto. Leftover wheat millet is used to make wine, while remnant maize is dried and burnt for fuel. Even the goats were reared to feed on dried gingko nut leaves left behind after the harvest. There is virtually zero waste from this self-sufficient homestead.
In the same way that they've adopted a no-waste policy with their farm produce, the same practice is applied to IN GOOD COMPANY's fabric off-cuts. After the patterns are laid out and cut from cloth, the remaining material scraps are collected and eventually sold to be recycled or repurposed. There are mops and mats in this village that are made from IN GOOD COMPANY's most ubiquitous cotton shirts, available only in the village of Taixing. Remnant black fabric, however, cannot be recycled and are burnt as cooking fuel in their traditional wood stove along with wood chips and dried maize stalks. Despite its cottage industry style of production, Guoping takes immense pride in the many high-tech machines that his factory owns. This includes state-of-the-art fabric inspection and cutting machines, pressing, sewing, and grading machines of different noises, sizes and functions. "Ask around, we're the only factory of our size that has invested in these machines. We can make anything that can be cut and sewn. Every piece from the IN GOOD COMPANY stores has gone through these rooms from start to finish."





Just as how they've adopted a
waste-not policy to their farm, the
same no-waste practice is applied to
IN GOOD COMPANY's
fabric off-cuts.


A fashion brand isn't worth much without the support of an excellent production partner. This is why Guoping and Xiao Zhou are so important to IN GOOD COMPANY — their propensity for solving technical challenges; their workers' design intuition; their sense of ownership over each piece produced, and the close relationships behind it all makes the label what it is. Although a modern cottage industry with an impressive output, Guoping's factory still has a whiff of the slow life unlike the harried atmosphere of large scale production factories. As the workers break to lunch, trading banter and neighbourhood gossip over a home-cooked al fresco meal in the factory's courtyard, the sanguine setting is comforting, as are the sounds and heartbeat of the country life.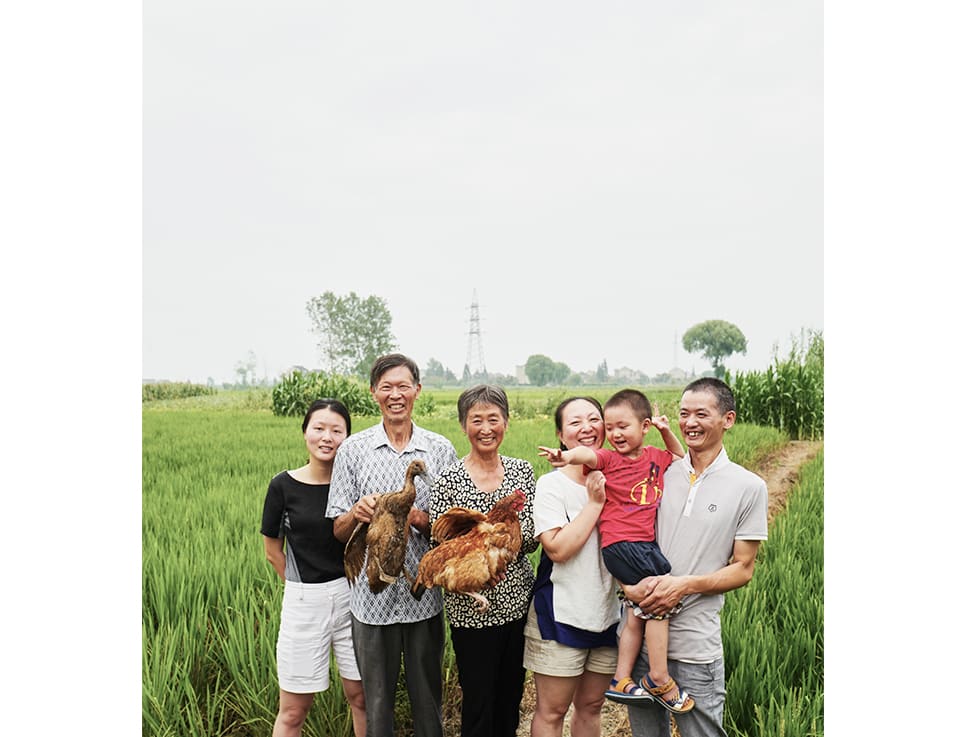 Discover the details of the IN GOOD COMPANY craft on every garment close-up. Browse the styles from our new capsule collection
here
.